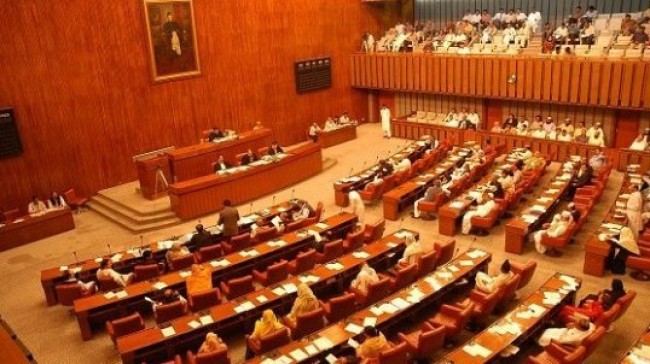 ---
Informal Senate session held via video link
Deputy chairman says if govt does not summon session, opposition has the option of convening it through requisition
---
ISLAMABAD: An informal session of the Senate on Thursday deliberated on the situation occurring due to the coronavirus pandemic, problems of the people, meeting of the upper house and other important issues.

The meeting presided over by Senate Deputy Chairman Saleem Mandviwalla was held through video link.

The deputy chairman stressed that people should strictly follow the standard operating procedures (SOPs) set out by the government to stem the spread of coronavirus.

Reviewing the capacity to hold session of the upper house through video link, he noted it was important to utilise the modern technology in the wake of coronavirus pandemic.

He emphasised that following the rules and regulations and keeping in view the current video conference, steps needed to be taken to convene the senate session.

The participants of the meeting observed that unusual circumstances prevailed due to the virus outbreak and declared that holding of senate session had become mandatory.

Mandviwalla maintained that a result-oriented debate needed to be held on the existing situation which would be helpful in devising a strategy for future.

He pointed out if the government does not summon the session, the opposition had the option of convening it through requisition.

"The entire nation has to fight together against the coronavirus pandemic. The upper house will continue playing its role," he said.

Hailing the video conference, the participants of the meeting paid tribute to the health workers, doctors, nurses, security personnel, national flag carrier pilots and all those institutions who are playing their part in the battle against the Covid-19.

The meeting was attended by Senators Mushahid Hussain Syed, Faisal Javed, Rukhsana Zubairi, Usman Kakar, Rana Maqbool, Mian Ateeq Sheikh, Imamdin Shauqeen, Sirajul Haq, Waleed Iqbal, Meher Taj Roghani, Hasil Bizenjo, Lt Gen (retd) Salahuddin Tirmizi, Pervaiz Rasheed, Dr Asif Kirmani, Sikandar Mandhro, Kulsoom Parveen, Zeeshan Khanzada, Ghous Muhammad Niazi, Maulana Abdul Ghafoor Haideri and Sitara Ayaz.