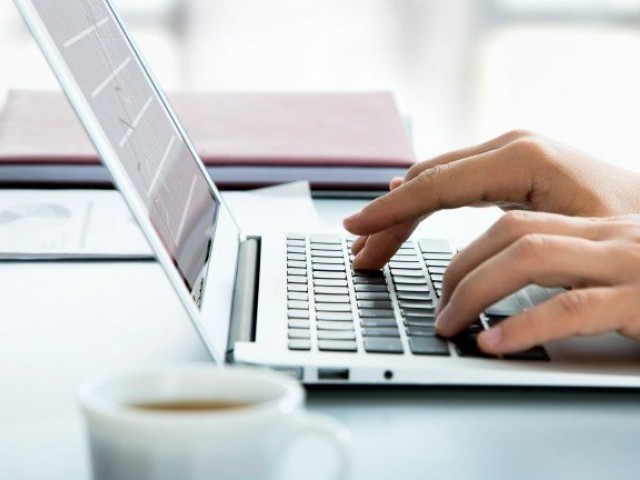 ---
Covid-19 impact: Digital learning lays bare economic disparities
Thousands of students from poor social classes not equipped to continue learning in times of pandemic
---
KARACHI: The need for digital learning has become imperative in these pressing times when the Covid-19 school closure has drastically affected education around the globe with millions of children forced to stay at home and wait for the pandemic to decide their school's future.

In such times when mobility is restricted and contact limited, the need for digital learning has come to the fore while also laying bare the vastness of economic disparity prevalent in society.

37-year-old Fauzia lives with her husband and four children in Karachi's southern Mehmoodabad neighbourhood. The majority of the population of this neighbourhood lives on or below the poverty line. Her husband is a tailor in one of the posh localities of the city.

"We cannot afford a laptop or a mobile phone for each child but the school sends instructions via WhatsApp, which are received on my husband's smart phone. However, since tailors workshops shut all over the city due to the lockdown, he has to go out in search of work. Due to that, we can't keep track of the home work that is sent by the school," said Fauzia.

In this situation, she said, her children take turns to complete work on a computer at a neighbour's house.

"Our neighbours are cooperative and let our kids use the devices. But sending them out every day is also a risk. It is better to go to school than to go out like that," she added.

There are millions out there like Fauzia and her children. Aleena, a student at a private university, said many of her classmates cannot afford a laptop.

"My friends are borrowing laptops from friends and family to take online classes. Some are buying second-hand devices from OLX [an online shopping app]," she said.

Aleena says this new situation has made students and teachers helpless as most people in Pakistan who take up the teaching profession come from humble or middle class backgrounds, and often lack the resources required to conduct swift and glitch-free online classes at home.

"Teachers are more worried than students as there is no guideline available. Furthermore, because of the job insecurity, they are reluctant to spend their savings on devices," she added.

According to the Taleem Bachao Committee, a state-run association of school teachers, the government is only concerned about private schools, where people can afford to provide their children with devices.

"Everyone knows that the quality of education in government schools is not up to the mark. This year, the closure of schools due to the new coronavirus has badly disrupted education at government schools. But it seems the government is only concerned about private schools.

"The officials have no plan for thousands of children studying at state-run schools," the committee said in a joint press conference last week.

According to Unicef, nearly 10.7 million boys and 8.6 million girls are enrolled at the primary level in Pakistan. The number of enrolled children drops to 3.6 million boys and 2.8 million girls at the lower secondary level.

"The government schools have always been a forgotten chapter for the state. Current circumstances have intensified the problem," said 50-year-old school headmaster Mujib.

According to him, it is difficult for government school teachers to communicate with children's parents, and get them to cooperate when managing resources for online classes that are beyond their means.

"Does the government expect us to ask these people who can hardly pay the fees for their four children to buy smart phones and tablets? It is the state's responsibility to provide the resources to students as well as teachers if they are shifting schooling to digital platforms," said Mujib.

While most school students and teachers are unhappy with the situation, the Institute of Business Administration's Centre for Excellence in Journalism Director Kamal Siddiqi said he believes that the students are right in complaining about the switch to online.

"It is a new method of teaching and both students and teachers are struggling to come to terms with it. At the same time, this is not a problem specific to Pakistan. This is happening all over the world. Having said that, the advantages of online teaching far outweigh the disadvantages," he said.

According to Siddiqi, whether people like it or not, he can see that online teaching and blended learning will become more and more popular in days to come. There is no going back. "Pakistani universities will have to introduce online teaching, and this is the way the future of education is headed," he said

The Higher Education Commission of Pakistan (HEC) has recently come up with a number of policies to overcome the academic loss. These include the National Knowledge Bank and the Technical Support Committee to cater to hybrid mode learning.

However, except for a tele-school that was launched last week under the supervision of Prime Minister Imran Khan, there have not been any clear instructions issued by the government on how to fill the economic gap that has emerged while shifting to digital learning amid the COVID-19 crisis.