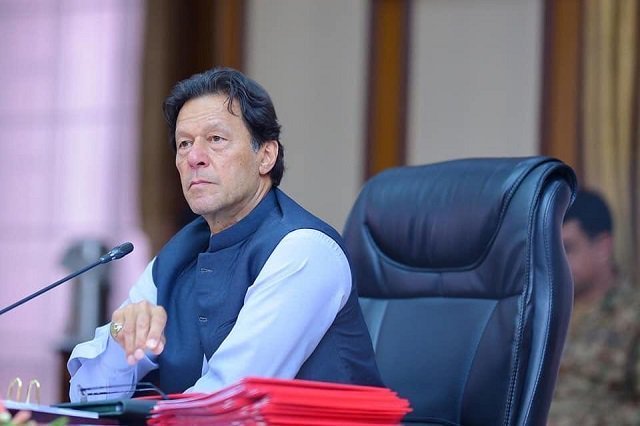 ---
Govt to contribute Rs4 for every rupee donated to relief fund: PM Imran
6.8 million families have received aid and Rs81 billion has been distributed through Ehsaas initiative, says premier
---
Prime Minister Imran Khan on Thursday said the government will contribute Rs4 for every rupee donated to the Coronavirus Relief Fund.

Speaking about the Covid-19 situation in the country, the premier said the fund would be used to help those individuals who lost their employment during the pandemic's outbreak.

The prime minister was flanked by Federal Ministers Asad Umar, Hammad Azhar, SAPM on Health Dr Zafar Mirza, Dr Sania Nishtar, and PM Focal Person on Coronavirus Dr Faisal Sultan.

PM Imran said an SMS campaign will be started for the relief fund and the government will seek evidence of unemployment. Referring to the force of volunteers, the Tiger Force, the prime minister said the volunteers will reach out to all union councils across the country and help the local administration in the activity.

'Deaths lower than feared'

The prime minister said that the current death rate in the country from the coronavirus outbreak is "lower than feared".

"We had thought that our intensive care units (ICUs) would be overwhelmed by now but that is not the case."

He added that the number of Covid-19 cases and deaths in the country is much lower than earlier predictions.

The prime minister also said that the government is doing its best to repatriate overseas Pakistanis who want to return to the country.

"These people are our VIPs as the remittances they send to the country, supports us immeasurably."

The premier also lauded Dr Sania Nishtar and the Ehsaas programme for reaching out and helping those in need.

He elaborated that through the program, 6.8 million families have received aid and Rs81 billion has been distributed. He further said that the distribution was fair and all provinces are getting what is required.

"People in Sindh have received the most aid through this program," said PM Imran.

Federal Minister Asad Umar said the country did not have reliable data at the start of the outbreak, but now after almost two months, reliable data has been gathered to make informed decisions.

"Thankfully, the situation is very different compared to the earlier projections we had."

The minister said that "unfortunately deaths will increase in the coming days but the good news is that we will not suffer the same fate as some other countries".

Umar further said Pakistan is being counted among those countries where the economic burden on the common man will increase substantially due to the pandemic.

He also expressed hope that going forward, people will continue to maintain social distancing and be responsible citizens. "In an upcoming meeting, we will review the situation and see if the lockdown conditions can be eased."