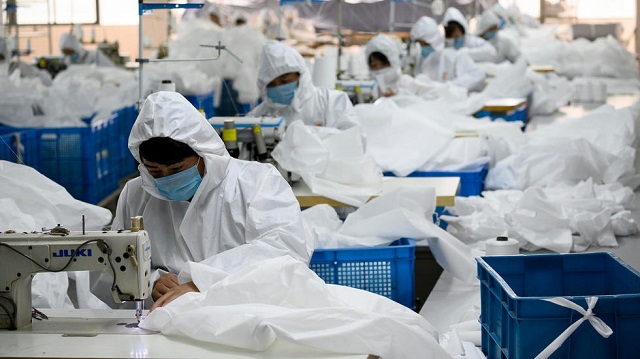 ---
IMC seeks PPE for frontline workers
39 healthcare workers have tested positive for Covid-19
---
ISLAMABAD: The Islamabad Metropolitan Corporation (IMC) has approached the National Disaster Management Authority (NDMA) for the procurement of personal protective equipment (PPEs) for its employees serving as frontline workers in coronavirus (COvid-19) relief efforts.

In a letter sent to NDMA by the IMC, it was stated that hundreds of corporation's employees, including the sanitary workers, were performing duties in the quarantine centres without any safety gear.

The frontline workers were vulnerable to contracting the contagion, it added.

Therefore, IMC requested the authority to provide PPEs including 10,000 facemasks, 800 pair of gloves, 1,000 N-95 masks, 500 face protective shields, 500 sanitisers and gowns to prevent the outbreak among the IMC  employees particularly the sanitary workers.

NDMA launches hotline

The disaster management authority has launched a hotline for addressing the complaints of the medical workers regarding a shortage of PPEs.

NDMA Chairman Lieutenant General Muhammad Afzal said that the doctors or the staff assisting in the treatment of the coronavirus patients across the country could ring the hotline number round the clock.

The helpline has been established in the NDMA operation room, Afzal told the media.

The lieutenant general added that the authority would ensure the provision of PPEs to health workers and employees of other departments fighting against the Covid-19 pandemic.

Health workers at risk

As many as 39 healthcare workers in the federal capital have so far tested positive for the novel coronavirus (Covid-19), the National Emergency Operation Centre confirmed on Wednesday.

The tally of the infected patients in Islamabad currently stands at 297 while so far, 36 people have been discharged firm different quarantine centres and hospitals after full recovery.

Positively-tested health workers include 16 doctors, 10 nurses, and three paramedical staff workers.

As many as 267 cases in the federal capital have been caused by local transmission of the contagion. Of the 19 infected patients under treatment at different hospitals, three have been reported to be in critical condition.

Last week, a senior doctor at the Hayatabad Medical Complex in Peshawar died of the Covid-19. He was leading the hospital's efforts against the contagion.

Earlier this month, a senior doctor and leading dermatologist Dr Abdul Qadir Soomro died from coronavirus in Karachi, raising safety concerns among health professionals who have been fighting the pandemic on the frontline.

Dr Soomro became the third doctor in the country to succumb to the virus.

Similarly, doctors in Balochistan held protests against the lack of protective gears.

The healthcare workers who are exposed to the contagion had been demanding safety gears.

Published in The Express Tribune, April 30th, 2020.