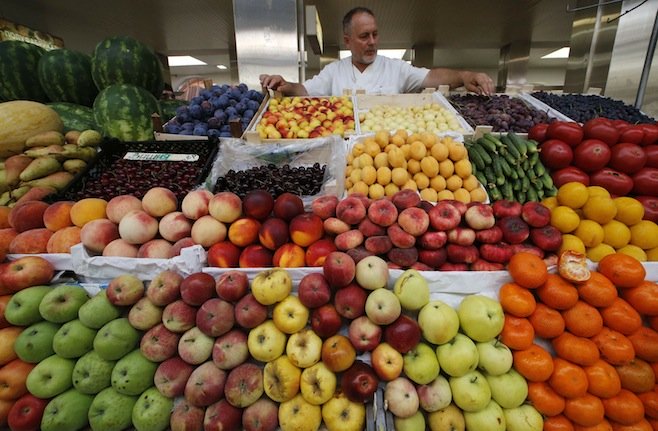 ---
RAWALPINDI: Like every year, prices of fruit and iftar items shot up with the advent of Ramazan.

People at various surveyed by The Express Tribune said retailers have increased price of food items, beverages, vegetables, fruits, gram flour, yogurt, dates and tamarind with no check by the administration.

"We are already reeling under the burden of economic hardship amid the outbreak of coronavirus and now the shopkeepers are rubbing salt on our wounds," said Amir Ali, who was buying groceries from a store in Saddar Bazaar.

Despite having powers to hold on the spot summary hearings and sending profiteers to jail, the 63 price control magistrates appointed in Rawalpindi were nowhere to be seen, said Noman Ahmed, another buyer who was complaining over the rates of bananas.

"It seems that the price control magistrates prefer to while away the time sitting in their offices," he said.

While media reports number of shopkeepers being penalised every day, the outreach of the administration remains limited.

High prices have forced the middle-income people to buy essential commodities in limited quantity only, another buyer said.

The market price of live chicken has increased from Rs110 to Rs160 per kilogramme (kg), price of gram flour (baisan) from Rs140 to Rs180 per kg, red chilly price soared to Rs760 from Rs500 per kg. Green cardamom is selling at Rs6,000 per kg, large cardamom at Rs1,700. The price of high quality dates is Rs500, while medium quality price is Rs400 and Rs150 for normal quality.

Bananas' price have been increased from Rs60 per dozen to Rs120 and Rs150.

In addition the items used in making chaat and dahi bhalay are being sold at higher prices.

Besides, rates of better quality white gram has increased from Rs160 to Rs200 per kg, red bean from Rs230 to Rs260 per kg, bhalla from Rs80 to Rs100 per dozen while chaat bundi has inched up from Rs300 to Rs350 per kg, papri from Rs200 to Rs240 per kg, tamarind was stable at R250 per kg, and so was mutton at Rs12,00 per kg, and beef at Rs600 per kg.

Prices of spices have increased by 50%, and among fruits apple rates jumped from Rs150 to Rs250 per kg, strawberry from Rs200 to Rs400 per kg. 

Published in The Express Tribune, April 30th, 2020.
COMMENTS
Comments are moderated and generally will be posted if they are on-topic and not abusive.
For more information, please see our Comments FAQ