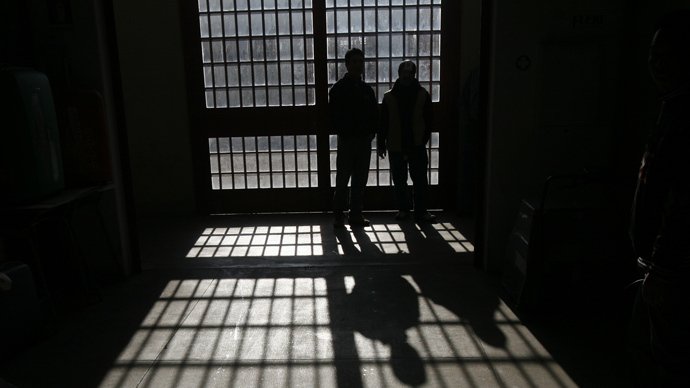 ---
Bars won't stop the spread in Punjab's detention facilities
So far 86 prisoners have tested positive at prison facilities in Punjab
---
LAHORE: After disrupting life across the province, the Covid-19 virus has now made its way through the bars into detention facilities across Punjab.

According to the latest figures provided by the spokesperson for the primary and secondary healthcare department, more than 86 inmates have tested positive for the super spreader that targets the respiratory system.

The rising number of cases inside prison facilities, according to one medical professional, is an alarming development. "If you see the inside of jails, they are crowded. The disease can spread like wildfire," he cautioned.

So far, positive cases have surfaced at all major prison facilities in the province.  Providing details of the outbreak at the prison facilities, the spokesperson's office said the first case of Covid-19 arrived at the Camp Jail from Italy. "The man was repatriated after serving a prison term in Italy," claimed a prison official.  "He was serving a prison term in Italy for smuggling drugs," the officer added.

Since January 2020, prison officials claim to have implemented strict measures to prevent Covid-19 from spreading at facilities. However, the number of cases at key facilities goes on to show those measures were not effective.  "An isolation ward with a total capacity of 100 is ready to treat positive patients," claimed the officer, who spoke on the condition of anonymity.

According to the details provided by the spokesperson's office, Camp Jail Lahore has 59 positive cases, Sialkot jail has 3, Gujranwala jail has 7, DG Khan jail has 9, Jhelum jail has 3, Bhakkar jail 2, Faisalabad, Kasur, and Hafizabad jail have 1 each.

Jails across the province appear to be overcrowded. The total number of prisoners at jails across Punjab is 45,535, whereas the facilities can house 34,873 prisoners. Overcrowded jails, one medical expert said, makes it impossible for authorities to implement social distancing, which, so far, appears to be the only effective strategy to curb the spread of the virus.

While authorities, claim to have implemented Coronavirus prevention measures, at jails across the province, concerns are rising of a coronavirus outbreak behind the bars.  "We are providing masks, gloves, and hand sanitizers to at prison facilities," claimed an official of the home department.

Highlighting the overcrowded jails, one expert said, the Central Jail in Lahore has a capacity of 2,350, but it houses more than 3,300 prisoners. Similarly, he pointed out Central Jail Gujranwala has a prison population of 2,906 while the capacity is 1,425.

Cases of Coronavirus have sharply risen across the province. According to the latest update, the total number of positive cases appear to be inching closer to the 6,000 mark.

Published in The Express Tribune, April 30th, 2020.