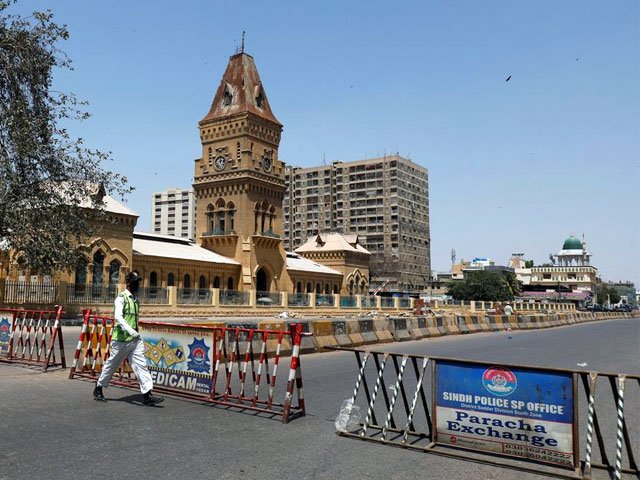 ---
Sindh govt denies reports of lifting lockdown
President, chief minister to discuss 'fate' of lockdown on Thursday
---
KARACHI: After endless controversy over the lockdown in Sindh, with Pakistan Tehreek-e-Insaf leaders and traders demanding to bring it to an end, President Dr Arif Alvi is scheduled to hold a meeting with Sindh Chief Minister Syed Murad Ali Shah to discuss the "fate" of the lockdown on Thursday (today).

However, the government denied that any decision had been made to end the lockdown, albeit acknowledging that discussions about easing it had been carried out.

According to sources, the meeting, which will start at 11am, is meant to discuss different options pertaining to the lockdown in the province.

"The concerns of traders demanding to reopen business activities, as well as the matter of prayers and Taraweeh at mosques and the overall 'smart lockdown' will be brought under consideration," a Sindh government official told The Express Tribune on the condition of anonymity. "It is premature to say whether or not the lockdown will be called off completely, but different options will come under discussion."

Bill Gates lauds Pakistan's efforts against Covid-19 outbreak

Meanwhile, a CM House official said that given the rising number of coronavirus cases in the province, the Sindh government would not call off the lockdown entirely, but it could devise a plan to ease business activities.

It may be mentioned here that the National Coordination Committee, chaired by federal minister Asad Umar and attended by all chief ministers of Pakistan's provinces, has already decided to extend the lockdown till May 9.

Coronavirus cases 30-35% lower than projections, says Asad Umar

Officials were of the opinion that the decision to end the lockdown would be made after this deadline.

However, some media channels, quoting provincial government officials, said the lockdown in the province would be ended on Saturday, following criticism from various quarters, which alleged that the Sindh government was the only provincial government that had created hindrances for business activities.

Sindh Information Minister Nasir Hussain Shah later refuted these reports, stating that no decisions had been made to bring the lockdown to an end.