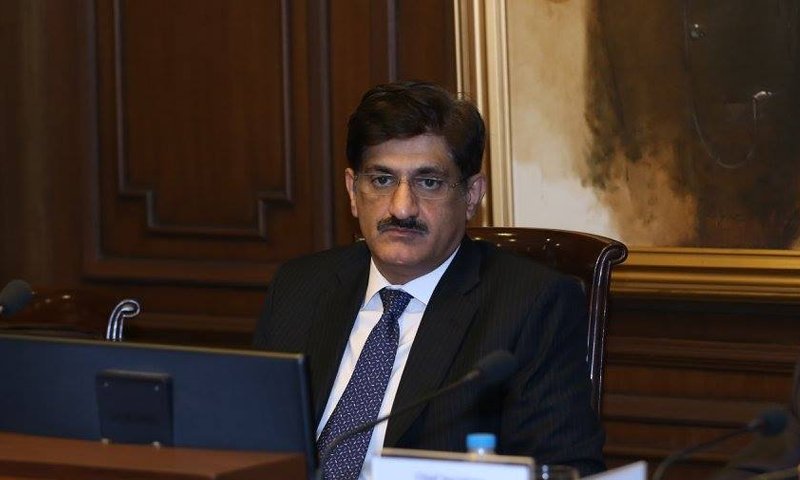 ---
Coronavirus pandemic reaches new high in Sindh
Death toll hits 100 mark, 404 cases reported – highest in a day so far
---
KARACHI: The emergence of 404 more coronavirus cases in Sindh - the highest reported here in a day thus far - and the infection death toll hitting 100, with the virus claiming another eight lives, is indicative of the worsening pandemic crisis in the province, pointed out Sindh Chief Minister Syed Murad Ali Shah.

"This is a very serious situation as we [continue] to detect more cases and [bury] more bodies [by each passing day], despite the recovery ration increasing to 20.5 per cent," the CM remarked in a video statement issued on Wednesday. While the increase in the recovery ration was encouraging, he said, "we have to [continue to work towards] saving the lives of our people."

Speaking with regard to the detection of 404 more cases on Wednesday, the CM said it was worrisome that of those, 332 belonged to Karachi. "Coronavirus cases and deaths are on the rise in Karachi [in particular]," he added.

Giving a breakdown of the cases reported in Karachi, the CM outlined that of the city's 332 cases, 113 were reported from South district, 100 from East district, 39 from Central district, 37 from Korangi district, 26 from West district and 17 from Malir district.

US coronavirus deaths surpass Vietnam War toll as Florida readies reopening plan

"I request the people of Karachi to adopt precautionary measures, including the use of masks, staying at a distance from children and elderly and avoiding going out unnecessarily," he implored citizens, warning that "otherwise they would see horrible results."

Besides Karachi, 14 more cases were detected in Sukkur, 13 each in Khairpur and Larkana and seven each in Shaheed Benazirabad and Shikarpur, the CM said.

Keeping in view these numbers, he said that the province's Covid-19 tally had climbed to 5,695.

The CM also pointed out the surge in the spread of the virus in rural areas, which he said spoke of people's failure to observe the standard operating procedures (SOPs) suggested by the World Health Organisation and health experts.

"We will not be able to defeat the virus unless our people cooperate [with us]," he said. He added that while some industries and online businesses were allowed to resume operations, they must ensure that they follow lockdown SOPs.

"We have to save ourselves and others also," he stressed.

In light of the worsening pandemic, the CM said, testing capacity in province was being enhanced and a new laboratory would soon be established in Larkana.

Shireen Mazari distributes ration among 500 transgender persons

On a separate note, he shared that 4,426 coronavirus patients were under treatment in Sindh, of whom 3,187 were isolated at their homes, 762 at isolation centres and 447 at hospitals. Among them, 54, including 18 on ventilator, were in critically ill, he said.

Moreover, he said that 208 patients were sent home after recovery on Wednesday, raising the count of recovered patients to 1,169.

He also gave updates on the return of stranded citizens, saying that flights from Kuala Lumpur and Abu Dhabi had brought 505 more citizens to Karachi, all of whom were tested and 69 among them were found infected while the results of 39 people were yet to come.