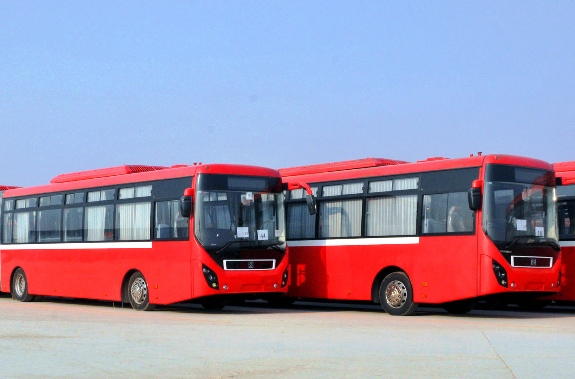 ---
Metro bus staff asks Rawalpindi commissioner for help
Private firm has yet to release salaries of workers for past three months
---
RAWALPINDI: Over 250 booth operators of the Metro Bus Service (MBS) approached Rawalpindi Commissioner Mohammad Mehmood on Tuesday, seeking his help in the release of their dues, pending for the past three months.

A private firm pays these ticketing clerks. However, the company has not released salaries for these workers since February. The metro bus service has been closed since late March after the government imposed a lockdown in the twin cities of Islamabad and Rawalpindi - between which the service operates - as part of measures to curb the spread of the novel coronavirus (Covid-19) pandemic.

Last week, these booth operators had sent their plea to the Rawalpindi Deputy Commissioner (DC) Capt (retired) Anwaarul Haq, urging him to direct the private firm, responsible for overseeing the financial affairs of the ticketing employees, to release their pending salaries.

However, their efforts were in vain as a meeting with the DC produced no results. Haq, however, had urged them to approach the commissioner for a possible resolution to their problems.

The private firm acts as a bridge between these employees and the Punjab Metro Bus Authority (MBA).

MBA officials claim that the authority has released funds for the company and that now it was the responsibility of the company to disburse salaries.

The ticketing employees, longing for their salaries for the past three months, have now submitted a written application to the Rawalpindi commissioner to resolve the matter.

They stated that they were last paid in January. Since then, they have been deprived of their wages.

The booth operators drew the attention of the commissioner that only employees in their department were facing such discrimination, whereas employees working in other departments of the bus service were receiving their cheques on time.

The disgruntled workers said that their families are starving because they have no money left and they have been disappointed by the uncertain situation in the city. They added that many employees had chosen to leave their jobs and find work elsewhere so that they could make ends meet.

Meanwhile, the commissioner office has assured the employees that their issue will be resolved at the earliest.

Published in The Express Tribune, April 29th, 2020.