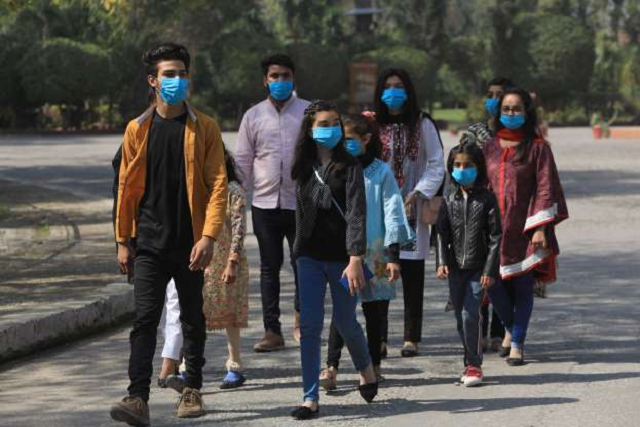 ---
K-P death toll crosses 100 mark
Highest number of positive cases recorded in the provincial capital
---
PESHAWAR: The healthcare system in Khyber Pakhtunkhwa is living its worst nightmare as the Covid-19 virus makes substantial gains.

According to the health department, a total of 120 new cases were reported on Monday, taking the provincial tally to 533. As the super spreader rages across the province, it has claimed more than 100 lives and infected a total of 1,984 people.

The spread, one medical professional said exposes the healthcare system's failures. The healthcare system, he said, can only conduct 135 tests per million people, which is significantly lower than other provinces. Whereas, in Punjab, the total testing capacity stands at 372, Sindh at 444, and Balochistan at 390 per million.

Raising the red flag, the provincial health department, in a report, said Peshawar, so far, has the highest number of positive cases and more than 50 deaths. Elsewhere in Mardan and Swabi, it said eight people lost the battle against Covid-19. With 12 deaths, the health department ranked Swat as the second city with the highest deaths after the provincial capital.

According to Dr. Siraj Ul Islam, a medical practitioner in the province, the highest number of positive patients are aged 50 to 59 years old. The fatality rate, he said, rises with age.

"Healthcare sector has not been on the priority list of the provincial government," said Dr. Islam. "700 positions are still vacant. The government has failed to appoint critical care staff, specialists, and virologists," he claimed.

Another medical professional pointed out that the lack of proper protective gear is imperiling the ability of healthcare workers to fight the coronavirus. "Personal Protective Equipment is short in districts and far-flung areas of the province," said Dr. Rizwan Kundi, President Young Doctors Association in K-P.

Dr. Kundi also criticised the government for its failure to implement an effective lockdown in the province. "With all public spots crowded, we will see a sharp increase in the number of cases in the province," he cautioned. He urged the government to impose a strict lockdown to prevent the virus from spreading.

On the other hand, the government hopes to increase the testing capacity to 2,000 tests per day. "We are planning to include private laboratories to increase the overall testing capacity in the province," claimed Taimur Saleem Jagra, Provincial Health Minister.

The minister was quick to dismiss comments about the lack of facilities in K-P. "Our doctors are trained to handle such situations. The professionals have what they need to fight Covid-19," Jagra said. 

Published in The Express Tribune, April 29th, 2020.