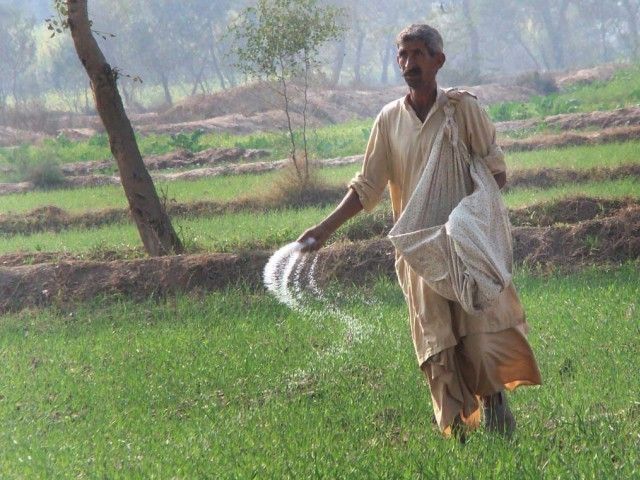 ---
Shortage of 0.5 million tons of urea feared in 2020
Industry asks govt to restore gas supply that will increase output
---
KARACHI: The fertiliser sector has urged the government to restore gas supply to urea manufacturers as a shortfall of around 500,000 tons of urea is expected in 2020 due to limited capacity of domestic producers to meet the projected demand for 6.2 million tons.

In the first quarter of 2020, the fertiliser industry operated at full capacity and produced 1.43 million tons of urea, which translated into production of 5.72 million tons for full year 2020, a source in the fertiliser sector informed The Express Tribune.

"To meet the shortfall, the government is left with two options, either to import urea or to arrange the required gas for local fertiliser plants, so they could produce additional product and meet market demand," said the source.

"However, the import of urea will not only lead to loss of foreign exchange but will also hike urea prices significantly in the market."

On the other hand, the global liquefied natural gas (LNG) price has dropped to a record low while consumption of gas has gone down in the country due to change in weather patterns and reduced industrial activities.

Hence, the fertiliser manufacturers are urging the government to benefit from the low LNG price and provide LNG to them without any subsidy, so they could restart production. In a letter written to the federal minister for industries, the management of two fertiliser plants - Fatima Fertiliser and Agritech - requested him to prioritise agriculture as it could play the role of a catalyst in repairing the economy following devastation from the Covid-19 lockdowns.

The resumption of gas supply to these two plants would help restart production and also generate employment as well as promote small-scale businesses of fertiliser dealers and distributors, the companies said. Furthermore, they said, it would trigger competitive pricing of fertiliser products and encourage new brands to enter the market.

The demand for essential commodities such as wheat, sugar and rice has increased manifold due to the closure of industries nationwide and globally, hence, easy availability of raw material for farmers will help them produce grains to meet requirement of the domestic market.

Topline Securities' analyst Sunny Kumar said data of last five years showed that average urea sales in the country stood at 5.8 million tons per year, however, the government kept some inventory in case uncertainty erupted in the market. "Therefore, it is up to the government to decide whether to facilitate local companies to arrange the fertiliser or import the commodity," he said.

It is pertinent to mention that the government has revised the support price for wheat to Rs1,400 per 40 kg.

Published in The Express Tribune, April 29th, 2020.

Like Business on Facebook, follow @TribuneBiz on Twitter to stay informed and join in the conversation.