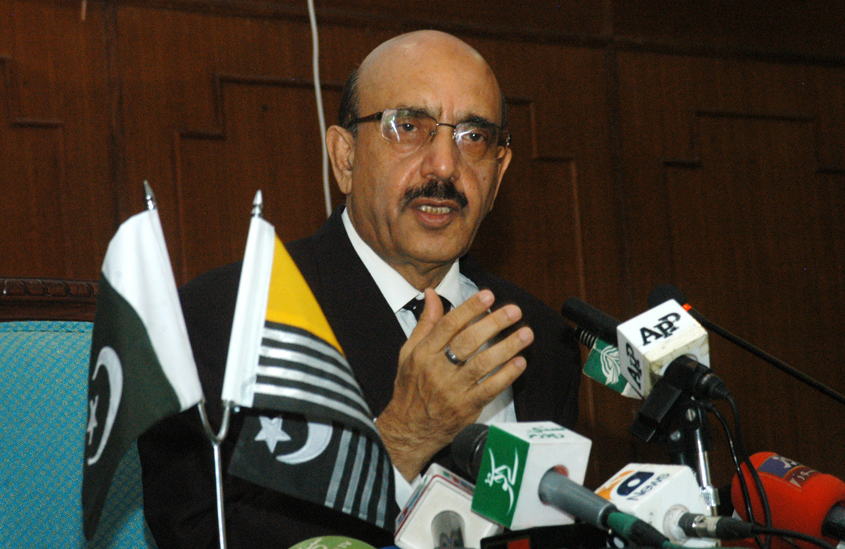 ---
Indian 'cowardly acts' aim at hiding crimes against Kashmiris: AJK president
Sardar Masood strongly condemns Indian troops' ceasefire violations along LoC
---
ISLAMABAD: Azad Jammu and Kashmir (AJK) President Sardar Masood Khan has condemned the unprovoked Indian firing along the Line of Control (LoC)  a day earlier which left a woman martyred, saying "such cowardly action cannot deter the valiant Kashmiri people from their just struggle for their right to self-determination".

In a statement on Tuesday, he said that India had been continuing unprovoked firing along LoC for a long period in violation of the 2003 ceasefire agreement.

He said that the sole motive behind such "cowardly acts" is nothing but to hide the crimes against humanity being committed by the Indian forces in Occupied Jammu and Kashmir (IOJ&K).

Expressing regret over the the martyrdom of 14 Kashmiri people in the disputed valley during the last five days, the AJK president said the Modi government instead of protecting the Kashmiri people from the novel coronavirus is busy in "ethnic cleansing".

He demanded the international community, including the United Nations, to take notice of Indian atrocities in IOJ&K.

World is now realising agonies of living under siege

"The coronavirus is rapidly spreading in Occupied Kashmir and doctors are unable to properly treat the people because of inadequate protective equipment," he said, adding that the state of affairs has posed serious dangers to the lives of Kashmiri people.

He called upon the World Health Organisation and the UN Human Rights Commission to mount pressure on India to release the illegally detained thousands of Kashmiri youth and political leaders in view of the Covid-19 pandemic.

President Masood said that social distancing is the only cure of coronvirus until the invention of vaccine and expressed satisfaction over the performance of law enforcement agencies, doctors and others for their joint efforts to deal with the Covid-19 crisis in the region.

He advised the people to strictly follow preventive measures against the global pandemic and cooperate with authorities in implementing the lockdown measures in AJK.