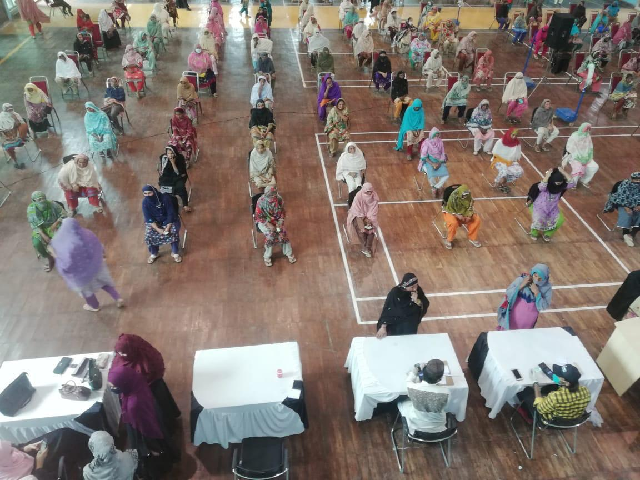 ---
Covid-19 challenges and opportunities
It's only practical to prepare ourselves and use data before it becomes tough to stimulate our poor and the economy
---
Within three months, the world has changed completely. Before Covid-19, the threats to any nation's existence were conflicts with enemies, non-state actors, terrorists, etc. Government policies across the globe focused on how countries can best protect themselves, but then an unrelenting virus which doesn't have a medicinal cure has changed the way everyone thinks and acts. Suddenly, everyone realises that majority of the countries' spending has been a misplaced priority, and that health and the social sector should be areas of utmost priority.

Since the beginning of March, central banks in developed countries have reduced their interest rates as a way of providing monetary stimulus. The US Federal Reserve reduced its interest rate by 1.5%, bringing it to zero territory in the US. Other central banks made a number of efforts to reduce interest rates and provide measures to support the economy. The outlook remains gloomy. The global economy, as per the IMF, will recede 6.3% from what they had predicted in January 2020 to -3%. A developing economy like Pakistan, which has its own challenges, is expected to recede by 1.5% for the first time in 68 years. The State Bank of Pakistan has reduced its interest rate by 4.25% keeping in view the reduction in inflation.

While more needs to be done, the Government of Pakistan will stand to benefit from reduced interest payments on its rupee debt. The federal government's local currency domestic debt stood at Rs22.2 trillion as of February which is 66% of the country's total debt (domestic and external). While the debt profile is diverse, the federal government was expected to allocate/spend Rs2.9 trillion as interest payments during the current fiscal. The local component can be as much as Rs1.5-1.75 trillion. A 4.25% reduction in debt cost can potentially save the federal government Rs250-300 billion per annum based on the current domestic debt. This is a substantial saving which should be diverted towards health, education and supporting the poor.

Additionally, the reduction in oil prices is a source of potential savings for the country. It can have a substantial direct effect on the energy sector, with a major trickledown effect on the country's overall economy. Pakistan has imported $7 billion worth of petroleum products in the nine months of the current fiscal year. Assuming the trend, the country will be importing nearly $10 billion worth of oil during the full fiscal year. Thus the total amount spent will be almost 40% less from that in FY2019. While the current oil prices might be an anomaly, a sudden spike doesn't seem a possibility in the immediate term — hence the opportunity for the government to give relief to the people. I may also emphasise that in order to help the small traders who have been hit by the decisions made due to Covid-19, the SBP should either launch an interest-free loan scheme or reduce the interest rate further reduced so as to help small traders mitigate their economic condition. The accountability of the scheme should be left to a later stage once we survive this pandemic. Further, these loans may be made conditional to the borrowers showing proper usage of funds and certifying that they have not laid off their staff and ensured continuity of their business.

While spending on health and education are medium-term goals like one to three years, the support to the poor is something the federal government appears to have been most "concerned" about. The reduction in the interest rate and the impact of lower fuel prices create the fiscal space that any central government would desire. The question now comes down to delivery. But so far we have not seen any.

Talking about relief measures, we have an efficient data collection system in NADRA which can be used to our advantage. The Benazir Income Support Programme (BISP), renamed Ehsaas Programme by the incumbent federal government, is an effective system which can be used to further support and stimulate the economy. As per Dr Kaiser Bengali, one of the architects of the programme, "BISP was launched in 2008, with NADRA-based beneficiary identification; which ensured that families of current and retired government employees, foreign bank account-holders, passport and NICOP holders, etc, would be automatically excluded. Its annual payout to over five million families [is] to strengthen household purchasing power, which supports millions of small businesses across the country. Recipient households purchase bread, clothing, textbooks, etc, which generates income for local shopkeepers and for businesses up the supply chain." In essence, it was the most effective way of delivering subsidy to the most needy. Unfortunately, instead of following the BISP model of cash transfers, the federal government preferred public payments which unfortunately looms like a publicity stunt as opposed to a social protection initiative. The effect has unfortunately led to compromising the lockdown and social isolation. Now people ask if they can leave their homes to collect money under the Ehsaas programme, why they cannot also leave for grocery or work. This, in my view, has been a major blunder and lost opportunity.

The way things stand currently, the poor and middle classes will be affected by the ongoing and anticipated economic lockdown. While food can be provided through philanthropy and public support, there is a need to widen the base by including fuel support to the general public. For example, motorcyclists can be included and be allowed to pay less for fuel. Of course, the modalities can be fixed as to how this must happen.

Another thing is to allow enhanced support from EOBI, SESSI and other provincial labour support entities. Their coffers need to be opened up and more support to those who have contributed over the years should be released. As per EOBI, it is supporting around 625,000 pensioners and survivors. Similarly, SESSI in Sindh has a budget of Rs6.98 billion, which can be used to provide relief to the labour class. I have first-hand information that SESSI Sindh has contributed to the Sindh government relief initiatives. For future, we should also target beefing up the funds collected by EOBI and SESSI so that we have stimulus measures and authentic data readily available.

We have to begin sooner than later. There will be red tape, road blocks, political point-scoring but all political stakeholders must agree that times ahead are tough. It's only practical to prepare ourselves and use the available data before it becomes tough to stimulate our poor and the economy.

Published in The Express Tribune, April 29th, 2020.

Like Opinion & Editorial on Facebook, follow @ETOpEd on Twitter to receive all updates on all our daily pieces.