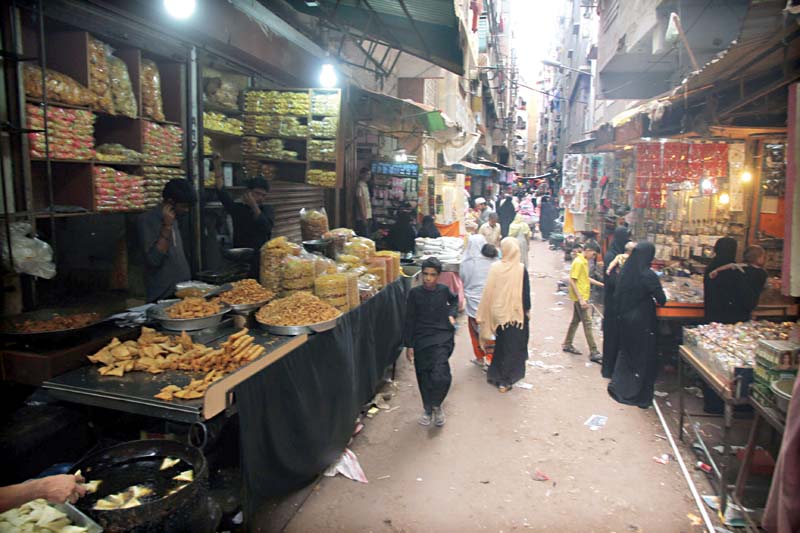 ---
Lyari sinking in pandemic crisis as residents disregard lockdown
An infected person left home to pray at a mosque Monday night, was later forcibly shifted to isolation centre
---
KARACHI: That the Covid-19 headcount continues to mount in Lyari - one of the most densely populated neighbourhoods of Karachi and is fast becoming a coronavirus hub for this very reason - and does little to perturb and perplex its residents has added to the difficulties of health and district administration officials.

For long they have been trying to make the area's dissidents understand the dangers of disregarding lockdown instructions but in vain.

In a recent instance of such disobedience, an infected person, who was isolated at his home, left for mosque to pray on Monday night. On being informed, local administration officials, with the help of police, traced him and forcibly shifted him to an isolation centre late at night.

This was confirmed by South deputy commissioner Irshad Ahmed Sodhar, who said, "Yes, the patient was walking around [on the streets] and also visited a mosque." The patient was kept in home isolation for the past few days, after he tested positive for the coronavirus, he added.

However, the disregard for lockdown instructions was nothing new for officials.

"These patients are not willing to move to isolation wards," Sodhar said, speaking on the matter. This was despite the administration trying to convince them time and again to relocate, explaining that the virus could infect their families otherwise, he added.

Mysterious blood clots are Covid-19's latest lethal surprise

And so, Lyari continues to sink further down in the pandemic jeopardy, its residents failing to realise that they are in deep, deep trouble. This nonchalance is probably a primary reason why it has one of the highest number of Covid-19 cases in Karachi.

Coronavirus prevalence in Lyari

Among 1,031 cornavirus patients in Karachi's South district, 273 are from Lyari, which is located near Karachi port, adjacent to one of the metropolis' busiest markets.

There, most infected persons reside along the length of a main road, Atmaram Pritamdas Road aka Shah Abdul Latif Bhittai Road, on both sides. According to the health department, the incidence is highest in Bihar Colony, with 30 coronavirus cases, Agra Taj Colony, with 30 cases, and Baghdadi Colony, which is home to 26 infected persons, as of now.

At present, 200 infected persons have been isolated at their homes in Lyari and the rest are shifted to different healthcare facilities, including Lyari General Hospital, Dr Ruth Civil Hospital and the isolation facility at the Expo Centre.

US coronavirus deaths projected at over 74,000 by August

But it was a tall task, which health officials and the local administration are still struggling to complete properly.

"[This is because] no one cares about the lockdown," commented Ramzan Baloch, a writer and a renowned social activist. "The state has to ensure its writ [now]," he stressed, adding that the district administration should take steps to ensure the safety of those still healthy.

Baloch said that the world had fought the virus wisely. "But we are still praying and not staying home," he added. "The only option left [now] is to tighten the lockdown.

Seeking a different solution

Activists, health officials and local administration officials attribute Lyari's resistance to lockdown instruction to the social structure of the old city locality.

Hence, authorities have now begun seeking the help of the area's 'elders,' who exercise considerable influence, to raise awareness about the hazards of ignoring lockdown instructions and convince infected residents to shift to isolation centres.

Unique eye colour: Photos of five-year-old Afghan boy go viral on social media

"We have approached the heads of 55 football clubs as well as senior members of various jamaat khanas [community centres ] for the purpose," Sodhar told The Express Tribune. "We want these people [infected persons] to move to isolation centres as it is near impossible for them to maintain social distance at homes," he said, further explaining that "they do not have big enough houses, and the only way for them to keep their families safe is to shift to Covid-19 healthcare facilities."

Expanding capacity

But majority had resisted shifting to isolation centres, particularly the Expo Centre, which they say was far away from their home, said Sodhar. "So, we are now planning to set up more isolation centres in Lyari," he added.

Currently, Lyari General Hospital has a 100-bed isolation facility while another 100-bed isolation centre is expected to be established at the hospital this week. The South District administration has also decided to set up a 320-bed facility at Mir Ayub Khan Girls School and another at Lyari Arts and Commerce College.