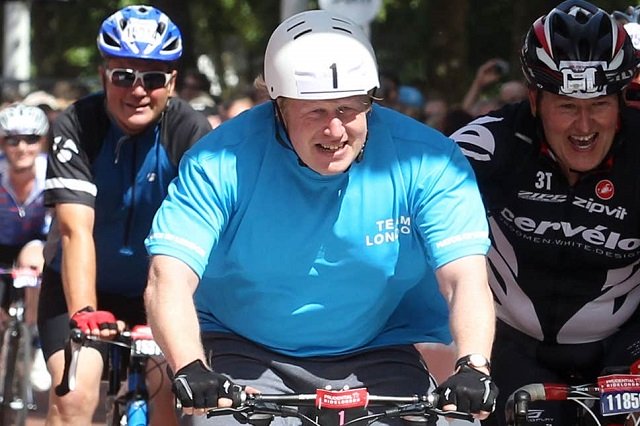 ---
United Kingdom's Prime Minister Boris Johnson was so badly affected by coronavirus because he is "significantly" overweight, a National Health Service (NHS) doctor revealed on Tuesday.
Consultant cardiologist Dr Aseem Malhotra said there is a ten-fold risk of death from the disease - which has so far killed more than 20,000 Britons - if patients are obese.
He pointed out that other "slimmer" members of the Cabinet - like Health Secretary Matt Hancock - recovered much more quickly and were not hospitalised.
Johnson, 55, has long struggled with his weight and in 2018 revealed he weighed almost 16 and a half stone, which at 5ft 9in puts him in the high risk category.
Other top government officials and advisers who have recovered from the virus include Chief Medical Officer Chris Whitty, Chief Adviser Dominic Cummings and Health Minister Nadine Dorries.
Dr Malhotra, said the Centre for Disease Control and Prevention had discovered there was an alarming link between death rates of Covid-19 and obesity.
He said: 'It was obviously very concerning for the whole nation to see our prime minister get admitted to hospital with the virus. Now it is an observation, but it does fit with the evidence, Boris unfortunately is significantly overweight".
"I used to speak with one of his very senior advisers when he was London Mayor a few years ago who expressed to me personally concerns about his weight. People with obesity also seem to spread the virus for a much longer period of time and also clearly get sicker".
'If you notice Chris Whitty, Matt Hancock and other members of the cabinet who got the virus did not get it as badly and they are essentially pretty slim. They do not seem to be affected by it the way he was".
In 2013, when he was 48, Johnson attempted to go on a major health kick before taking part in the first Prudential Ride London-Surrey 100 cycle sportive.
However, in recent years he is said to have struggled to do strenuous exercise due to issues with his knees.
Dr Malhotra, who is Honorary Consultant Cardiologist at Frimley Park Hospital NHS Foundation Trust said issues like high blood pressure, type two diabetes and heart disease all lead to Covid-19 complications.
He added: 'This is really the elephant in the room. The centre of disease control a few weeks ago did an analysis and put out the message that there is likely a ten-fold increase in mortality death rates in people who have conditions linked to obesity which basically include high blood pressure, type two diabetes and heart disease.
'This is really a real problem because it is not being addressed and it is not being tackled head on. The reasons for this are two fold. One is excess body fat seems to have an adverse effect when it comes to viral illnesses".
The article originally appeared in Mail Online
COMMENTS
Comments are moderated and generally will be posted if they are on-topic and not abusive.
For more information, please see our Comments FAQ