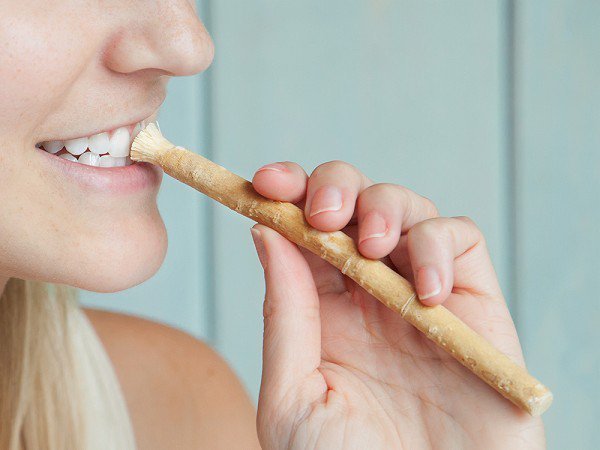 ---
Oral hygiene, or the lack of it, is an issue that is often swept under the rug during Ramazan.

People generally avoid using toothpastes during Ramazan thanks to the fear that they might ingest it by mistake, breaking their fast, and let's face it, it's not the best practice! Who wants to come out of Ramazan with tooth sensitivity, oral decay and bad breath? The answer is, no one!

Luckily, there's one thing that has saved people's oral health and hygiene for thousands of years prior to toothbrushes and toothpastes - we're talking about chew sticks or miswak!

Miswak is most generally associated with the Salvadora persica tree, commonly known as 'arak' in Arabic, and holds special importance in Islam - the Prophet (PBUH) himself used 'twigs made from the Arak tree', and their use is often mentioned in hadis concerning the Prophet's life.

As compiled from StyleCraze, here are five health benefits of incorporating a miswak in your daily oral healthcare routine!

1) Fights tooth decay and cavities

While most commercial toothpastes use fluoride as a means to beat decay, another effective solution to this is your own saliva - it prevents buildup of acid and gives teeth time to repair themselves. Miswak has been known to increase the formation of saliva in the mouth without the need for any commercial enhancers or additives, thus naturally fighting tooth decay.




2) Protects against tartar and plaque 

The easiest way to prevent the buildup of tartar and plaque, and thereby prevent gum disease and tooth loss, is to brush regularly and in the right manner. Miswak being the 'toothbrush twig' helps here thanks to its antibacterial property that prevents the bacteria from accumulating on the teeth and gums.

3) Fights harmful bacteria and germs 

In numerous studies conducted by the World Health Organisation, miswak has been shown to contain a number of active antibacterial compounds that fight bacterial growth in the mouth. Also, people using miswak on a regular basis were seen to suffer from lesser instances of oral hygiene issues.




4) Protects And Strengthens The Gums

By helping to prevent the formation of plaque, and the subsequent tartar accumulation, miswak comes in handy here as well. It reduces the chances of gingivitis and periodontitis keeping your gums healthy.

5) Refreshing aftertaste 

Miswak boasts a refreshing aftertaste and fragrance. Packed with a whole load of naturally occurring aromatic compounds, using miswak induces a feeling of cleanliness and promotes a fresher, more pleasant breath.

Have something to add to the story? Share it in the comments below
COMMENTS
Comments are moderated and generally will be posted if they are on-topic and not abusive.
For more information, please see our Comments FAQ