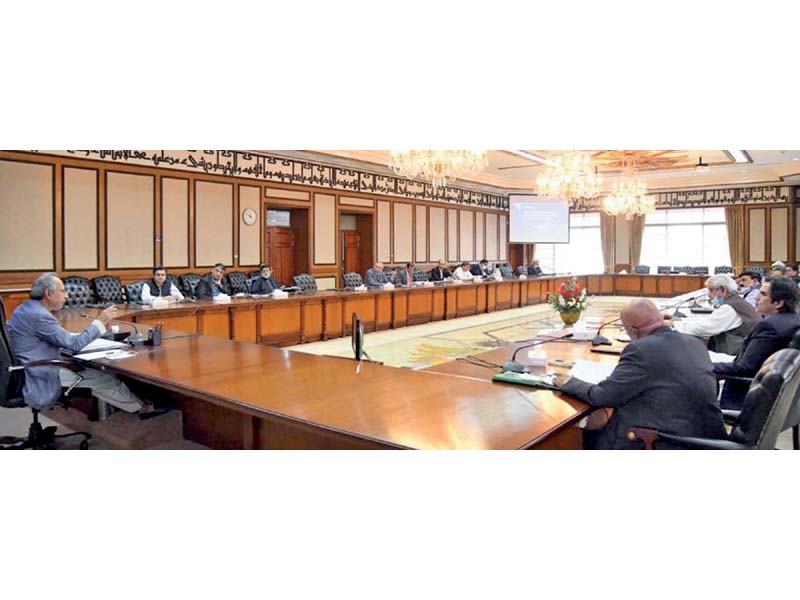 ---
ECC okays Rs81b for businesses
PTI govt to avail G-20 relief, open talks for debt restructuring with 11 members
---
ISLAMABAD: The federal government on Monday approved Rs81 billion financial support package to pay electricity bills of small businesses and pick principal loan repayments of big firms aimed at helping them absorb economic shock caused by deadly pandemic.

The Economic Coordination Committee (ECC) of the Cabinet, which approved the Rs81 billion package, also gave a green light to avail $1.8 billion debt relief from 11 members of the G-20 nations - a club of top 20 economies of the world.

After ECC's nod, Pakistan will approach individual member countries to negotiate external debt restructuring to the tune of $1.8 billion.

The businesses financial support package was part of the umbrella Economic Relief Package that Prime Minister Imran Khan had announced in March to help firms and individuals survive the worst shock from 'Great Lockdown' and Covid-19 health emergency.

The ECC has approved Rs50.7 billion package to provide indirect cash flow support to the small and medium size enterprises (SMEs) through pre-paid electricity bills, announced the Ministry of Finance after the ECC meeting.

The Rs50.7 billion support would benefit 3.5 million small businesses, said Federal Minister for Industries and Production Hammad Azhar.

The ECC also approved a credit loss subsidy of Rs30 billion for the Risk Sharing Facility for State Bank of Pakistan's (SBP) Refinance Scheme to support employment and prevent lay-off of workers, it added.

Under the scheme, Rs30 billion financing would be extended to businesses with maximum sales turnover of Rs2 billion while the government would bear 40% first loss on distributed portfolio (principal portion only) for eligible borrowers, in case of repayments, after being classified as "loss" as per classification criteria under the respective SBP Prudential Regulations. The banks and DFIs assigned limits under SBP scheme would be eligible executing agencies, said the finance ministry.

The federal government has approved the Rs30 billion subsidy to pick principal loans cost amid big businesses decisions to lay off their employees. Some big industrial groups of Pakistan have retrenched their employees last week.

Debt relief

On a proposal by the Ministry of Economic Affairs, the ECC accorded in principle approval to the external debt restructuring of the government of Pakistan by availing the G-20 debt relief, according to the Ministry of Finance.

The ECC allowed engaging with bilateral lenders for debt suspension with the proviso that agreements to that effect could be subsequently brought to the ECC for approval.

Pakistan owes $20.7 billion to 11 out of 20 members of the G-20. Out of this sum, an amount of $2.6 billion will mature till June 2021, including the interest payments, according to the economic affairs ministry. However, the G-20 nations have suspended debt payments only from May to December 2020. The ECC was told that during this period, Pakistan will have to make $1.8 billion repayments to 11 members. This includes $1.47 billion principal loans repayments and $323 million interest on the loans.

In the next one year, $624 million Saudi Arabian debt and $615 million Chinese debt will mature, according to the economic affairs ministry. Pakistan is also required to return $34 million to Canada, $281 million to France, $148 million to Germany, $21 million to Italy, $570 million to Japan, $73 million to South Korean, $21 million to Russia and $192 million to the United States.

Small businesses package

The Rs50.7 billion package will benefit approximately 95% commercial consumers with connected load up to 5 KW and 72% of industrial consumers with connected load of up to 70 KW, said Azhar.

Under the scheme, commercial consumers would be given support up to Rs100,000 and industrial consumers up to Rs450,000 for three months, the Ministry of Finance said. The base period for estimating electricity consumption would be May-July 2019 and for meters for which electricity consumption data is not available for the full base period, appropriate average will be used.

To avail the facility, pre-paid electricity bills of three months or total bills during the base period would be required. The period of consumption of the extended financial support would be six months starting from May to June 2020. The scheme will be available to both formal and informal sectors.

The ECC has already approved to disburse Rs75 billion among four million to six million people who have been rendered jobless. An amount of Rs12,000 per person will be given through a new portal that will be launched soon, said Azhar.

He said that these daily wagers have to get themselves registered through the portal, which will be launched after the approval of the federal cabinet.

The process to disburse financial aid has remained painstakingly slow. Despite the country is in partial lockdown for the last one and half months, the government has not yet been able to reach people being affected due to closure of businesses.

So far, it has disbursed Rs70 billion among those 5.5 million beneficiaries that were already receiving financial assistance under Benazir Income Support Programme.

Azhar said that the government would soon announce sector-specific financial support packages. The ECC also allowed Rs2.5 billion block allocation to the Azad Jammu and Kashmir (AJK) and Gilgit-Baltistan (G-B) for disbursement through special arrangement.

Published in The Express Tribune, April 28th, 2020.

Like Business on Facebook, follow @TribuneBiz on Twitter to stay informed and join in the conversation.