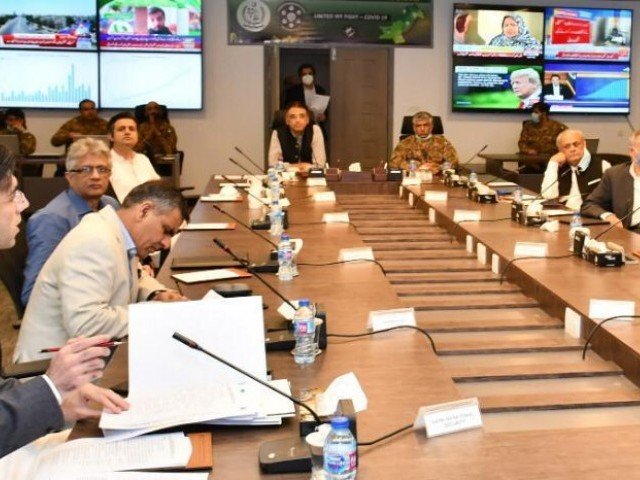 ---
NCOC reviews Ramazan situation amid pandemic
Interior minister says inter-city travel could be made possible on weekends 
---
ISLAMABAD: The National Command and Operation Centre (NCOC) on Monday deliberated on the implementation of Ramazan guidelines and the health situation amid the coronavirus pandemic in the country.

A meeting of the NCOC was chaired by Federal Minister for Planning, Development and Special Initiatives Asad Umar in the federal capital on Monday and was attended by federal ministers, provincial chief secretaries and other high-level officials through video link.

The participants of the meeting were briefed about the implementation of guidelines issued by the government for people in Ramazan particularly the opening of stores.

Speaking on the occasion, Minister for Interior Ejaz Ahmad Shah observed that the provincial authorities should apprise the store owners about the pre-emptive measures to be adopted to forestall the spread of Covid-19.

He emphasised that the use of surgical masks and maintaining of social distance should be ensured.

The interior minister suggested in order to ensure the protection of people and to avoid public rush, inter-city travelling could be made possible on weekends.

The forum deliberated upon the health crisis in the wake of Covid-19 outbreak and discussed the future course of action to tackle the menace.

Foreign diplomats briefed on Pakistan's strategy to cope with Covid-19 crisis

The session also issued guidelines for lockdown during the holy month.

A day earlier, the interior minister told the participants in the meeting that urban population needed to be educated to follow the guidelines and observed the villagers were adhering to the government's directives.

He said people should be sensitised that usual business in urban centres could not be run during this Ramazan.

He said the political leadership, particularly at the district and union council level, had played a key role in educating the population in villages.

The masses have been asked to adopt social distancing and avoid visiting the places of rush.

Special Assistant to the Prime Minster on Health Dr Zafar Mirza said the curve of Covid-19 cases had started straightening at the global level, indicating that the situation was becoming stable.

"Around three million people have been infected across the globe and over 200,000 deaths have been reported. However, as the curve has started becoming straight so it is hoped that the situation will improve in coming days," he said.

Dr Mirza assured doctors of full support from government for addressing their genuine grievances.

The NCOC is putting together standard operating procedures and guidelines with the help of provinces so there is uniformity in the process across the country.

The body, which is the nerve centre of the national Covid-19 containment activities, had already prepared a 48-day strategy, which had pre-Ramazan, Ramazan, and post-Ramazan components, all of which aimed at educating and informing the public about the potential risks, advocating adherence to social distancing practices and other containment measures, guiding the people for observance during the holy month under the special circumstances, and ultimately preventing the spread of the disease.