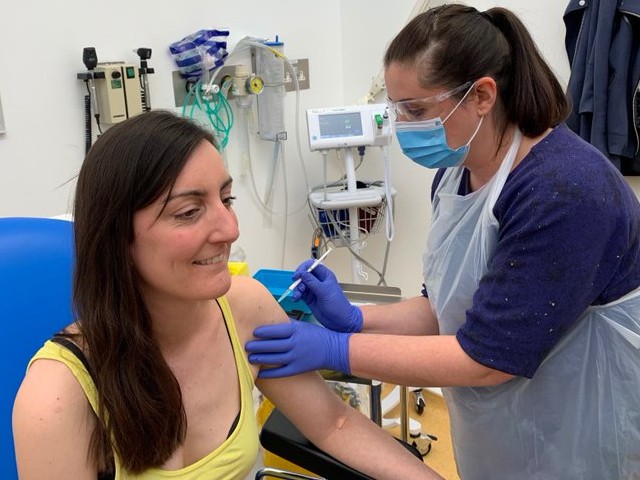 ---
'Very much alive', says UK vaccine trial volunteer after online death rumours
Dr Granato was one of the first two volunteers injected in a trial of potential Covid-19 vaccine at Oxford University
---
After a fake article about her death circulated on social media, Dr Elisa Granato, one of the first two people who were injected as part of the United Kingdom's human trials for a coronavirus vaccine, on Sunday said that she was "very much alive."

An article claimed that Dr Elisa Granato — the microbiologist who took part in the trial at Oxford University on Thursday — had died due to vaccine intake.

However, the UK government later termed the article "completely untrue", warning the people on sharing unproven claims on the web, according to a report published in The Guardian.

....and here is Dr Elisa Granato in person. Alive and well pic.twitter.com/Csw1WqmBQa

— Fergus Walsh (@BBCFergusWalsh) April 26, 2020

Granato was one of the first two volunteers to be injected in a trial of a potential Covid-19 vaccine at Oxford University.

The University of Oxford News Office confirmed to Reuters that she was "alive and well".

Granato and Edward O'Neill received an injection of a vaccine labelled "ChAdOx1 nCoV-19".

The Oxford scientists said last week that large-scale production capacity was being put in place to make millions of doses of the ChAdOx1 nCoV-19 shot.

Oxford University hopes to produce coronavirus jab by September

Such trials are already underway in China and the United States and are due to begin at the end of this month in Germany, where the federal vaccine authority gave the green light on Wednesday.

The British government strongly supports Oxford University's work, and the first human trials begun on Thursday, Health Minister Matt Hancock had said.

He hailed the "promising development", pointing out that it would normally take "years" to reach such a stage of vaccine development.

In its first phase, half of 1,112 volunteers will receive the potential vaccine against Covid-19, the other half a control vaccine to test its safety and efficacy.

The volunteers are aged between 18 and 55, are in good health, have not tested positive for Covid-19 and are not pregnant or breastfeeding.

Ten participants will receive two doses of the experimental vaccine, four weeks apart.

Novartis to start antimalarial drug trials on Covid-19

Professor Sarah Gilbert's team hopes for an 80 per cent success rate, and plans to produce one million doses by September, with the aim of making it widely available by the autumn if successful.

But the teams carrying out this research say on their website that this timetable is "highly ambitious" and could change.

The government's chief medical officer Chris Whitty acknowledged on Wednesday that the likelihood of getting a vaccine within the year was "incredibly small".

"If people are hoping it's suddenly going to move from where we are in lockdown to where suddenly into everything is gone, that is a wholly unrealistic expectation," he warned.

(With additional reporting from AFP and Reuters)