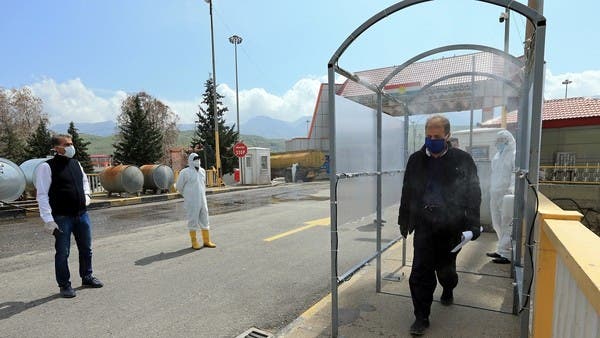 ---
Fad or future?: Experts question efficacy of disinfection gates
While demand for these walkthrough systems surges, concerns remain about the chemicals used
---
KARACHI: As the Covid-19 pandemic continues to gain momentum around the world, several measures are being put in place to control the spread of the infectious disease.

One such effort includes the installation of sanitisation mechanisms like antiviral walkthrough gates outside public spaces with the confidence that it will disinfect passersby and prevent the chances of cross-infection within the premises.

However, although such systems have already started gracing the entrances of several mosques, factories, markets, hospitals and offices, experts believe that these antiviral walk-through gates create a false sense of safety and offer no real protection against the coronavirus.

For better or worse

According to Infection Control Society Pakistan (ICSP) president Dr M Rafiq Khanani, these walkthrough gates work as disinfectant showers and lightly spray passersby with diluted solutions of chlorine, bleach or Dettol liquid.

"The general idea behind such systems is that anyone passing through it will be instantly disinfected, thereby eliminating or at least reducing the risk of cross-infection. But that's not very effective in the real world and especially in the case of the coronavirus, which cannot be eliminated with a one-time disinfection," he explained. "If someone is infected by the virus, it does not only exist on their dermal surfaces but is largely carried in oral cavities and the respiratory system. So even if the one-time disinfection may clear some traces of virus from their person, the risk of infection still exists every time the person sneezes, coughs or talks," he added.

However, despite the lack of evidence on how effective such mechanism can be against the coronavirus and the various health and safety risks they seem to pose to human health, antiviral walkthrough gates have remained in high demand across Karachi, while the city gradually moves towards easing the lockdown.

Locally made

As per local manufacturers of antiviral tunnels, these systems can be built in a range of sizes depending on the need, while the most prominent market for these systems is housed in Alkaram Square, Liaquatabad, No. 10. "As offices and businesses are slowly opening up, we have seen a higher demand for these walkthrough gates and it is a widespread belief that these gates are effective in preventing the spread of the coronavirus," claimed Muhamad Faizan, a Karachi-based manufacturer.

Depending on the availability of labour, it can take up to five hours to complete a single unit of a walk-through gate, which requires the assistance of several of welders, plumbers, electricians and fitters. "A small antiviral walkthrough gate has the capacity to sanitise up to 200 people, whereas a larger gate can disinfect as many as 400 to 500 people. Customised gates with a 12 feet walking area can also disinfect entire vehicles such as motorcycles."

On the other hand, while demands for these systems continues to surge the World Health Organisation's website maintains that spraying alcohol or chlorine solutions-often used in these walkthrough gates - have no effect on viruses which have already entered the body.

"However, if used long-term or without appropriate recommendation, these disinfectant solutions can in fact prove to be more harmful for dermal surfaces and mucus membranes. A similar observation was also made during the Ebola epidemic in West Africa, where frequent exposure to chlorine spray was seen to have various detrimental health effects on humans," Dr Khanani told The Express Tribune.



Published in The Express Tribune, April 27th, 2020.