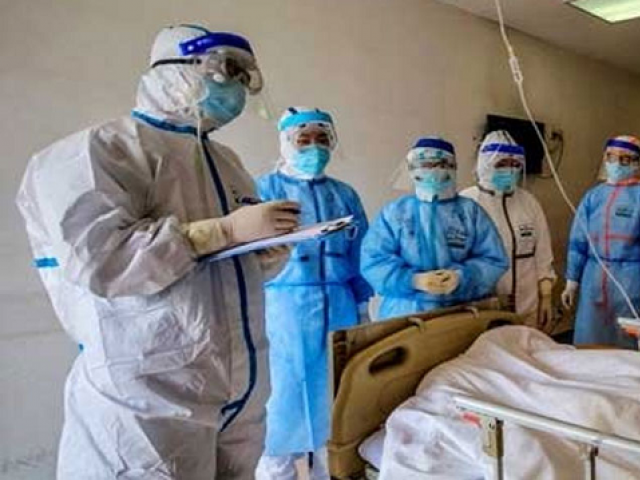 ---
Three more doctors test positive for coronavirus in Sindh
Medical officers in Jacobabad, Karachi, doctor in Mirpurkhas found infected
---
KARACHI/HYDERABAD: Three more doctors in as many districts of Sindh were reported to have contracted the coronavirus on Sunday, a day after another five doctors were tested positive in Shikarpur district. The new cases include a female medical officer working at Civil Hospital, Jacobabad, a chief medical officer at Abbasi Shaheed Hospital in Karachi and a doctor employed at a private hospital in Mirpurkhas.

Nearly four dozens doctors, paramedics and other staff at Civil Hospital, Jacobabad were tested following the development. The hospital, however, was not sealed.

PMA asks Sindh CM to take a leaf from Punjab's book

At ASH, the infected doctor was immediately quarantined, while all other staff and patients were evicted from the ward.

Karachi Metropolitan Corporation senior medical director Dr Salma Kausar claimed that the emergency ward had been closed temporarily for fumigation, while some staff members of the ward have been directed to self-quarantine at their homes.

According to Kausar, three doctors at the hospital have contracted coronavirus so far. She added that the staff members working with them were also screened.

Meanwhile, the private health facility in Mirpurkhas was sealed and the samples of other staff were collected.

Besides, another general physician from Mirpurkhas quarantined at his home after one of his patients tested positive for the virus.

In Thatta district, a bank manager, his wife and two children also tested positive for the coronavirus on Sunday. All of them were put under isolation at their home.

11 'coronavirus positive' doctors damage hospital, residences

Meanwhile, a resident of Sukkur died due to the coronavirus in Civil Hospital, Khairpur. District health officer Mohammad Hussain Abro confirmed the death.

According to him, the 45-year-old patient was admitted to the hospital on Saturday and he was put on ventilator due to his critical condition. The body was transported back to Sukkur and the deceased was laid to rest by a team of the health officers and volunteers, as per the SOPs issued by the health department.

Another Covid-19 patient, aged 56 years, died at the Gambat Institute of Medical Sciences, Khairpur. The deceased, a local resident, was a member of the Tableeghi Jamaat.

In Sukkur, a servant of Pakistan Peoples Party leader Syed Khursheed Ali Shah also tested positive. Following the release of his reports, the district administration sealed the area where Shah's residence is located, while his family members, who were present at home, too, are to be tested for the virus.

Shah is in the National Accountability Bureau's custody and currently admitted to the National Institute of Cardiovascular Diseases in Sukkur.