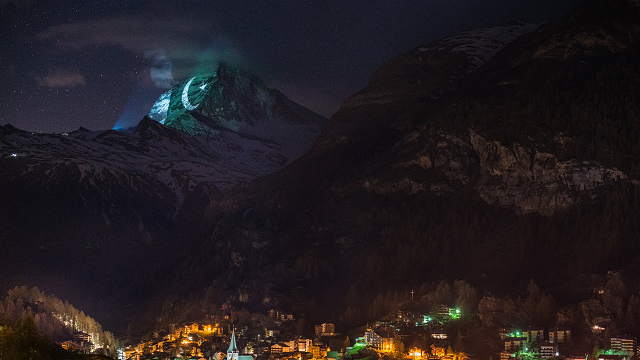 ---
Covid-19: Pakistan's flag displayed at Switzerland's Matterhorn in solidarity
Words such as 'hope', 'solidarity' and 'stay home' have also been displayed on the mountain
---
As the number of coronavirus cases in Pakistan soared past 12,700, a mountain, none other than the Matterhorn in the Swiss Alps, was lit up with the country's flag in a bid to express solidarity and support amid the pandemic.

Every night, the popular mountain is lit up with projections of images, including flags of countries across the globe, that have been hit with the deadly disease.

On April 25, Switzerland's Matterhorn projected Pakistan's flag. A picture of which was shared on Twitter.

It said, "Switzerland shows solidarity with the people of Pakistan and wish them strength."

Artist Gerry Hofstetter started this initiative last month. His first illumination on the mountain was that of the Swiss flag, reported CNN.

Flags of other countries including the United States, Canada, Nepal and Russia have been projected on the mountain as well.

Words such as 'hope', 'solidarity' and 'stay home' have also been displayed.



In Pakistan with high mountains like Switzerland, the spread of the coronavirus is on the rise. We show solidarity with the people of Pakistan and wish them much strength. #hope #Zermatt #Matterhornhttps://t.co/qFjiKuZNsE pic.twitter.com/DoEmZnEIIr

— Zermatt - Matterhorn (@zermatt_tourism) April 25, 2020