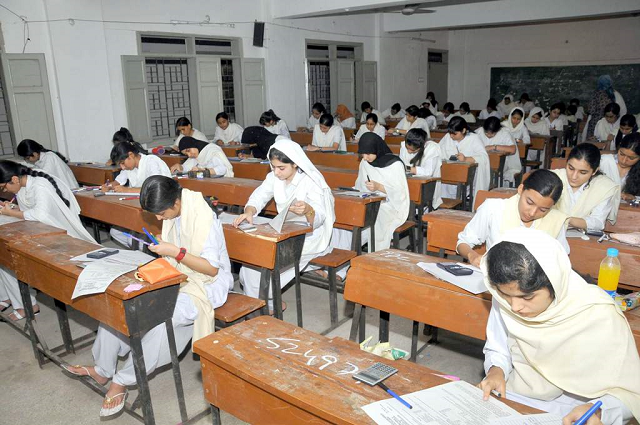 ---
Matric, inter exams may be delayed or cancelled
Representatives of all public, private boards to take final decision on Monday
---
KARACHI: With Covid-19 cases in Pakistan showing no signs of letting up, the fate of thousands of students set to appear in matric and intermediate exams in a little more than a month hangs in the balance.

According to one of the country's top education officials, authorities are seriously discussing plans to either postpone or call off the exams this year. "Having held informal discussions, most board chairpersons agree that the uncertainty arising from the coronavirus pandemic and resulting lockdowns has made it very difficult to hold exams in June," Aga Khan Board of Education Chairperson Dr Shehzad Jeeva told The Express Tribune.

To reach a formal decision on the matter, Dr Jeeva will chair a meeting of representatives from all public and private education boards on Monday. "The meeting will be held using a video and teleconferencing app and will be attended by the heads of the education board chairpersons' committees from all four provinces, Gilgit-Baltistan and Azad Jammu and Kashmir," he said. "It will formulate a uniform policy on the exams and decide whether to push them to July or cancel them altogether in favour of an alternative grading procedure."

Talking about the challenge of holding the exams on schedule, Dr Jeeva said it takes six to eight weeks to finalise all necessary preparations. "These include issuing contracts for furniture and other items, and training staff to conduct the exams," he explained. "Then there is the challenge of maintaining social distancing. All this has made it very difficult to hold the exams on time and if as the lockdown continues, it will only grow harder."

Dr Jeeva pointed out that the Higher Education Commission has already asked universities to push admissions to October. "In view of all this, it makes more sense to look at our alternatives."

In addition to taking a decision on postponement or cancellation, the meeting will work out what additional measures either move will necessitate. "If we hold the exams in July, what will be the pattern they will follow? If we cancel the exams, then how will students be graded," Dr Jeeva said while discussing the meeting's agenda.

According to him, postponing the exams beyond July was out of the question. "If we don't hold the exams in July, then we can't push them any further. Doing so would delay university admissions," he said.

"As such, if any unpleasant situation makes it impossible to hold the exams in July, we will have to work out an alternative grading system for students." However, Dr Jeeva ruled out handing over grading to schools like Cambridge Assessment International Education has done.

If exams do go ahead in July, Dr Jeeva said the meeting will discuss cancelling practical exams to save four weeks. In any case, he said the meeting participants would ensure students are provided academic continuity in an impartial and transparent manner.

After Monday's meeting, the heads of board chairpersons' committee will hold further consultations with their provinces' respective boards, Dr Jeeva said. "Following that, IBCC will take a final decision in a week and a half, and take the issue up with concerned ministries and departments," he added.