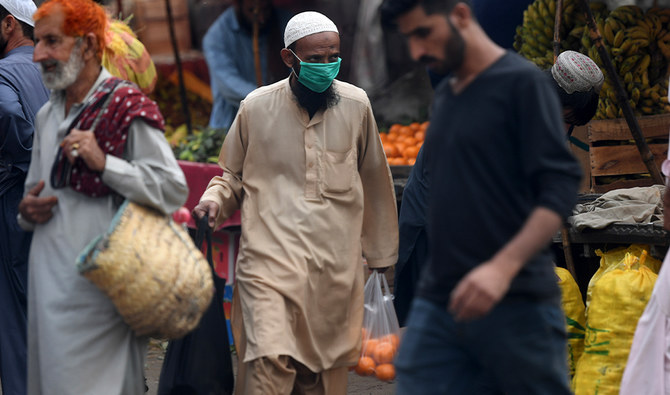 ---
LIVE: Sindh reports highest number of cases in a day as nationwide Covid-19 tally hits 13,328
Dr Zafar Mirza urges citizens to show responsibility, avoid congregations during Ramazan
---
KARACHI / ISLAMABAD / QUETTA / PESHAWAR / LAHORE / GILGIT / MUZAFFARABAD: The novel coronavirus emerged in the central China city of Wuhan towards the end of last year and proliferated to almost the whole world within a couple of months. It's not the virulence or fatality, but the infectivity of the new virus – also known as SARS-CoV-2 – that has set off a global frenzy.

The Covid-19 respiratory illness caused by this mysterious contagion has so far infected more than 2.9 million people in 202 countries and territories of the world – more than 200,000 of them have died and counting.

Pakistan, despite its close proximity with China, remained coronavirus-free until February 26 when a young man from Karachi tested positive after returning from Iran – one of the worst-hit countries. After a brief hiatus following the first case, Covid-19 cases spiked as more pilgrims returning from Iran tested positive for the virus.

The nationwide tally of Covid-19 patients stands at 13,314 with 5,446 cases in Punjab, 4,615 in Sindh, 1,864 in Khyber-Pakhtunkhwa, 781 in Balochistan, 318 in Gilgit-Baltistan, 245 in Islamabad and 59 in Azad Jammu and Kashmir.

The virus has claimed at least 281 lives while at least 2,936 coronavirus patients have recovered.

The number of cases has continued to soar despite the country being under lockdown for the fifth consecutive week.

The situation remains fluid and we're updating stats as soon as new figures are officially released.

Follow The Express Tribune's live coverage of the pandemic here.


12:00am: DRAP issues 10-point guidelines for pharmacists to keep coronavirus at bay

The Drug Regulatory Authority of Pakistan (Drap) has issued a 10-point advisory for pharmacists to protect them from contracting novel coronavirus as they are believed to be potential targets of Covid-19 pandemic after healthcare workers.

According to the guideline, pharmacies which are even situated inside the hospital are required to put up a banner or have someone standing outside instructing patients not to enter the premises if they have any Covid-19 symptoms.

People with symptoms of coronavirus should be asked to visit hospital designated for the treatment of Covid-19 or contact officials at helpline (1166), according to the instructions.

Read full story here




11:35pm: 10 more cases raise G-B's Covid-19 tally to 318

The health department of Gilgit-Baltistan (G-B) has confirmed 10 fresh cases of coronavirus to raise the region's tally to 318.

Six cases were reported from Gilgit, three from Astore and one from Diamer.




11:30pm: Assistant of doctor who succumbed to Covid-19 also tests positive for virus in K-P

The assistant of Dr Muhammad Javed — who lost the battle against Covid-19 in Peshawar on Saturday — has also contracted novel coronavirus.

Dr Liaquat was working with Dr Javed in the ENT ward at the Hayatabad Medical Complex in Peshawar.




11:10pm: Pushcarts, tandoors exempted from coronavirus lockdown in K-P

The Khyber-Pakhtunkhwa (K-P) government has exempted pushcarts and tandoors from lockdown restrictions that compel all other businesses to close down at 4pm across the province.




10:50pm: President Alvi visits Islamabad mosques again to review implementation of Ramazan SOPs

President Dr Arif Alvi has once again paid a surprise visit to several mosques situated in the federal capital to review implementation of all necessary precautionary measures to mitigate adverse impacts of coronavirus.

During his visit to various mosques in Barakahu on Sunday night, he said Covid-19 challenge can only be addressed through effectively pursuing precautionary measures, Radio Pakistan reported.

The mosques, which the President visited, included Jamia Mosque Anwaar Madina in Ahmed Town, Jamia Mosque Ghausia on Simly Dam Road, Begum Mosque Barakahu, and Jamia Mosque Shamma-e-Risalat.

The president inspected precautionary measures being adopted by mosques administration during Taraweeh prayer in Ramazan.

Minister for Religious Affairs Pir Noorul Haq Qadri and Special Assistant to Prime Minister on Capital Development Authority Affairs Ali Nawaz Awan accompanied the president.


President @ArifAlvi again directs mosques' administration to ensure implementation of all necessary precautionary measures to mitigate adverse impacts of #coronavirus @PresOfPakistan https://t.co/jLnwxC5N1j

— Radio Pakistan (@RadioPakistan) April 26, 2020


10:00pm: Three more doctors test positive for coronavirus in Sindh

Three more doctors in as many districts of Sindh were reported to have contracted the coronavirus on Sunday, a day after another five doctors were tested positive in Shikarpur district.

The new cases include a female medical officer working at Civil Hospital, Jacobabad, a chief medical officer at Abbasi Shaheed Hospital in Karachi and a doctor employed at a private hospital in Mirpurkhas.

Nearly four dozens doctors, paramedics and other staff at Civil Hospital, Jacobabad were tested following the development. The hospital, however, was not sealed.

Read more here




9:15pm: Two more succumb to Covid-19 in Balochistan as cases rise to 781

Another two people contracted the novel coronavirus in Balchistan to take the provincial death toll to 13 on Sunday.

According to daily situational report, 176 out of total 781 patients have recovered from the mysterious disease in the province so far.




8:40pm: Four doctors, paramedic diagnosed with Covid-19 in Peshawar's LRH

Four doctors and a Class-IV employee of Lady Reading Hospital in Peshawar have been diagnosed with Covid-19.

According to a hospital spokesperson, the affected staff members have been quarantined in their houses or hostels.




8:20pm: 120 new Covid-19 cases swell Punjab's tally to 5,446

The Punjab Health Department has reported 120 new cases of coronavirus to bring the provincial tally to 5,446.

This includes 768 pilgrims, 1,923 Tableeghi Jamaat members, 86 inmates and 2,669 citizens.




8:00pm: Two local govt officials diagnosed with Covid-19 in K-P

Two local bodies officials of Khyber-Pakhtunkhawa have been tested positive for coronavirus.

Special Assistant to CM for Local Government and Rural Development Kamran Bangash, who himself was diagnosed with Covid-19 on Saturday, said in a Twitter post that Town Officer (Regulation) Riaz Awan and Tehsil Officer (Infrastructure) Swat Aitzaz have contracted the virus.

Bangash said the authorities concerned have been directed for full medical attention to the two officers, who he added were in good spirits.


فیلڈ میں کام کرتے ہوئےمحکمہ بلدیات خیبرپختونخواکے دلیر افسران ٹاؤن ون کے ریگیولیشن آفیسر ریاض اعوان اور تحصیل آفیسرانفراسٹرکچرسوات اعتزاز میں کورونا وائرس پایاگیا۔دونوں افسران کے حوصلے بلند ہیں۔ سیکرٹری کوہدایات جاری کردی کہ اِن کے علاج معالجہ میں کسی قسم کی کوتاہی نہ برتی جائے۔ pic.twitter.com/Tdgpqi8gcy

— Kamran Bangash 🇵🇰 (@kamrankbangash) April 26, 2020


7:50pm: 60 new local transmission cases take Balochistan's Covid-19 tally to 781

The Balochistan government's spokesperson, Liaquat Shahwani, has confirmed 60 new cases of local transmission in Balochistan to take the provincial tally of Covid-19 patients to 781.

Total number of local coronavirus cases stands at 633, he said in a tweet.


60 new #Corona #local transmission cases reported today in #Balochistan.

Now total local Corona cases : 633.
Total Cases including Zahireen : 781.#CoronaInPakistan

— Liaquat Shahwani (@LiaquatShahwani) April 26, 2020


7:30pm: K-P reports five deaths, 71 new Covid-19 cases in last 24 hours

71 new cases – two from Torkham quarantine center – have been confirmed in the last 24 hours, taking the Khyber-Pakhtunkhwa (K-P) tally to 1,864.

Five new deaths were also reported, taking the tally to 98, according to the provincial health department. 30 new patients have recovered so far, taking the total number of recoveries to 515 in the province.


71 new cases (2 from Torkham quarantine center) confirmed in last 24 hours taking total tally to 1,864. 5 new deaths were reported taking tally to 98. 30 new patients have recovered taking the total tally to 515 in KP. pic.twitter.com/9j7KQnkCfO

— Health Department KP (@HealthKPGovt) April 26, 2020


5:34pm: Covid-19 patient gives birth to healthy infant in Karachi

A pregnant woman who had recently been diagnosed with the novel coronavirus has given birth to a baby at the Dr Ruth Pfau Civil Hospital Karachi (DRPCHK).

The hospital management, confirming the incident to The Express Tribune, said that both the newborn and the mother were in stable condition.

The woman, a resident of Karachi's Central district, was referred to the hospital by the district health officer on Saturday. "We had already been informed the patient was Covid-19 positive," said the hospital's medical superintendent, Dr Khadim Hussain Qureshi.

Read full story here




4:30 pm: Abbasi Shaheed doctor, wife test positive for coronavirus

The emergency ward at the Abbasi Shaheed Hospital in Karachi was closed for 24 hours after a doctor and his wife tested positive for the virus.

ASH's Medical Superintendent Dr Nadeem Rajput told The Express Tribune that the ward will be fumigated before being opened for public.

The emergency department will resume normal services on Monday afternoon.




4:00 pm: SAPM Awan says we are proud of our doctors 

Special Adviser to Prime Minister on Information and Broadcasting Dr Firdous Ashiq Awan while addressing a press conference in Sialkot said our doctors fighting the war against Covid-19 are our heroes.

Says we are aware that we need to save the lives of our doctors and also provide a conducive environment for them to provide their services effectively.

Also urges Ulema to ensure the 20-point agenda agreed upon with the government regarding Taraweeh and congregations prayers during Ramazan is followed.


Live: SAPM on Information & Broadcasting @Dr_FirdousPTI addressing a press conference in Sialkot. #Coronavirus #Covid_19 #TogetherWeCan #COVID19Pakistan #PakistanFightsCorona https://t.co/590BTqionj

— Radio Pakistan (@RadioPakistan) April 26, 2020


2:50 pm: 70 recoveries in Sindh in last 24 hours

Sindh Government Spokesperson Barrister Murtaza Wahab said in the last 24 hours, 70 patients have recovered from the virus.

He said the chief minister is presiding over a meeting with administration to oversee arrangements of existing isolation centres and the establishment of new centres in Karachi.



CM Sindh is presiding over a meeting with administration to oversee the arrangements of existing isolation centres & establishment of new isolation centres in Karachi. Similar steps are also being taken for all districts in the province

— SenatorMurtaza Wahab (@murtazawahab1) April 26, 2020
The following information is relevant to assess the situation of #COVIDー19 in Sindh as of 26th April at 8 AM:

Total Tests 41216 (today 3028)
Positive Cases 4615 (today 383)
Recovered Cases 872
Deaths 81

In the last 24 hours, 70 people have recovered from corona in Sindh

— SenatorMurtaza Wahab (@murtazawahab1) April 26, 2020
2:45 pm: Highest number of cases reported today

Sindh Chief Minister Murad Ali Shah said the province's health authorities conducted 3,028 tests in the past 24 hours, and 383 tested positive.

Out of the new cases, 273 were reported in Karachi.

He said this is the highest number of cases reported in Sindh in 24 hours.

The chief minister reported three new deaths in the province. The provincial death toll stands at 81.

He said 2,432 patients have self-isolated in their homes, 767 in isolation centres and 463 in hospitals.

Read full story here


2:35 pm: Saudi Arabia providing rations to Pakistanis in need

Punjab Governor Chaudhry Sarwar said Saudi Arabia has started providing rations for Pakistanis who lost their jobs due to the pandemic.

He appreciated Saudi Arabia's support and said they have always supported Pakistan in its time of need.


2:10 pm: China donates medical supplies to Punjab

China's Ningxia Hui Autonomous Region has donated medical supplies to Punjab to fight the pandemic.

The material includes 1,000 N95 medical masks, 20,000 disposable medical masks and 500 disposable protective suits.


1:45 pm: 62 stranded Pakistanis arrive in Islamabad

62 Pakistani nationals stranded in Norway reached Islamabad today.

A special Pakistan International Airlines (PIA) flight departed from Oslo and arrived in Islamabad.

The passengers were tested at the airport and shifted to quarantine centres.

31 passengers were taken to Hill Park Hotel and 15 to Pak-China centre.

The 15-member PIA crew were transferred to Marriott Hotel.


1:30 pm: 13 recoveries in K-P today, says Ajmal Wazir

Khyber-Pakhtunkhwa Chief Minister's Adviser on Information Ajmal Wazir confirmed 85 new cases. The provincial tally stands at 1,793.

He said there has been a total of 13 recoveries today.

Wazir paid homage to Dr Muhammad Javed - who lost his battle against the virus - and all those on the frontline fighting against the virus. He said "generations will remember" the doctor.

The adviser said there is no cure for the virus, except "precautions, precautions, precautions" and urged the masses to remain at home.

Wazir maintained that people must follow standard operating procedures when they go out during the day.


1:05 pm: PIA flight carrying 250 passengers departs from Australia 

A special Pakistan International Airlines (PIA) plane carrying 250 stranded Pakistani nationals left Melbourne today.


1:00 pm: Dr Sania Nishtar says transparency in Ehsas Emergency Cash Programme is a priority 

Special Assistant to PM on Poverty Alleviation Dr Sania Nishtar said there is no way for political interference in the Ehsas Emergency Cash programme.

Transparency is the government's top priority, she added.



احساس ایمرجنسی کیش میں سیاسی مداخلت اور اقربا پروری کا کوئی راستہ نہیں ہے۔ سماجی تحفظ کے اس پروگرام میں شفافیت ہماری اولین ترجیح ہے۔4/4

— Sania Nishtar (@SaniaNishtar) April 26, 2020
12:50 pm: Murtaza Wahab urges citizens to stay indoors, protect the vulnerable 

Sindh Government Spokesperson Barrister Murtaza Wahab said 182 children under the age of 10, and 900 over the age of 60 have contracted the virus in the province.

He said the government has urged citizens to stay indoors and practice social distancing to avoid infecting children and elderly.

The adviser to the chief minister said people should take the lockdown seriously and isolate themselves to protect the vulnerable.


12:30 pm: Switzerland's Matterhorn displays Pakistan's flag to show support 

Switzerland's Matterhorn lights up with Pakistan's flag to show solidarity with the country amid the coronavirus outbreak.



In Pakistan with high mountains like Switzerland, the spread of the coronavirus is on the rise. We show solidarity with the people of Pakistan and wish them much strength. #hope#Zermatt#Matterhornhttps://t.co/qFjiKuZNsEpic.twitter.com/DoEmZnEIIr

— Zermatt - Matterhorn (@zermatt_tourism) April 25, 2020
12:05 pm: NCOC second meeting during Ramzan in progress

The second meeting of the National Command and Operation Centre (NCOC) in Ramazan is in progress.

The meeting is reviewing the implementation of Ramazan guidelines, small and medium enterprises (SME) packages, health situation and data integration.

Federal Interior Minister Brigadier (R) Ijaz Shah said people in villages are following guidelines set by the federal government to curb the spread of the virus.


11:30 am: 1,450 US nationals repatriated 

The United States Embassy in Islamabad thanked Pakistani authorities for facilitating flights to the US.

Over 1,450 US nationals returned home this week.



We helped over 1,450 #USCitizens and LPRs leave #Islamabad this week to reunite with their loved ones in the United States. Thanks to the Pakistani authorities for facilitating the flights. #RamazanMubarak #AmericansHome #coronavirus #COVID pic.twitter.com/m6dLmTsOij

— U.S. Embassy Islamabad (@usembislamabad) April 26, 2020
11:00 am: All journalists in Muzaffarabad to be tested

After two journalists in Muzaffarad tested positive for the novel coronavirus, the Azad Jammu and Kashmir (AJK) government has decided to test all journalists in the provincial capital for the virus.

AJK President Masood Khan assures journalists that all facilities will be provided to those affected.


9:50 am: Nationwide tally at 12,723

After Punjab reported 52 new cases and 12 more were reported in Islamabad, the nationwide tally jumped to 12,723.

The National Command and Operation Centre confirmed that the virus claimed 16 lives in the last 24 hours, raising the death toll to 269.

78 patients are in critical condition while at least 2,866 patients have recovered.

81 per cent of cases are local transmissions while 19 per cent are through foreign travel, the centre reported.


9:00 am: Dr Zafar Mirza urges citizens to avoid congregations 

Special Assistant to the Prime Minister on Health Dr Zafar Mirza urged citizens to show responsibility and avoid congregations during the month of Ramazan.



SAPM on Health @zfrmrza again urges citizens to demonstrate responsibility & avoid congregations during #Ramazan    to protect themselves from #Covid_19 pic.twitter.com/c2feFhCyE3

— Information Ministry (@MoIB_Official) April 26, 2020
8:30 am: British govt announces nine chartered flights

The British government has announced nine more chartered flights from Pakistan to the United Kingdom (UK) to repatriate British nationals.

This will include the first chartered flight from Karachi and other flights from Lahore and Islamabad.

At least 5,000 British nationals in Pakistan are to be sent back.
7:40 am: Alvi writes letter to Imams, says persons above 50 to pray at home

President Dr Arif Alvi directed the Imams of mosques to urge worshippers above the age of 50 to pray at home.

In a letter to the Imams, the president said point number six of the standard operating procedures (SOPs) set by him and the country's top religious leaders said persons over the age of 50 should avoid offering prayers at the mosque.




7:00 am: President Arif Alvi visits mosques in Rawalpindi

President Dr Arif Alvi visited mosques in Rawalpindi to review arrangements made by the administration of mosques to contain the spread of the virus.

He shared a picture of Jama Masjid Ghousia and said the administration had arranged for Taraweeh, keeping in mind necessary preventative measures to curb the spread.

He noted, however, that face masks were lacking.

راولپنڈی کی ایک اور چھوٹی مسجد جہاں ماشاللہ بڑے اچھے انداز میں تراویح کا احتمام کیا جا رہا ہے۔ باقی چیزیں ٹھیک ہیں مگر ماسک کی کمی ضرور ہے۔ جامع مسجد غوثیہ۔ pic.twitter.com/rEIX1DzIDM

— Dr. Arif Alvi (@ArifAlvi) April 25, 2020