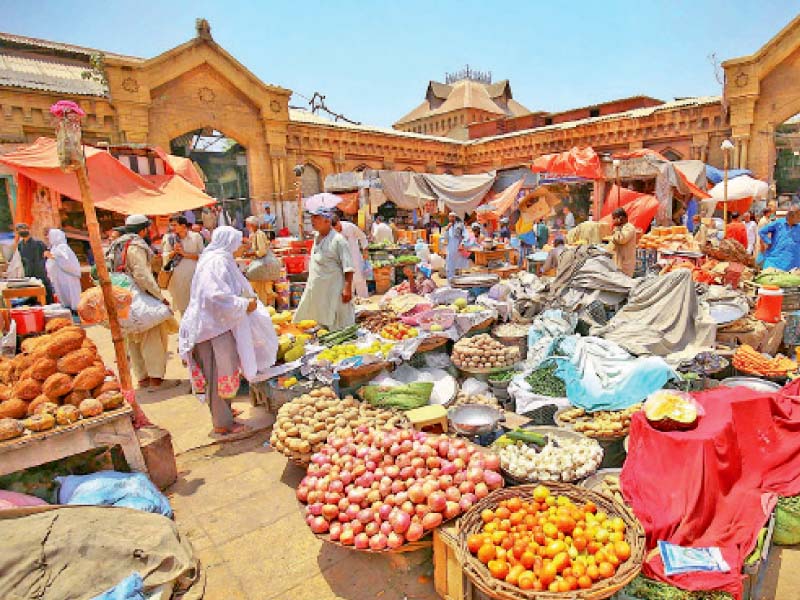 ---
People across Sindh throw caution to the wind as Ramazan begins
Buyers crowd markets before Iftar, shops raise prices
---
KARACHI: It was sudden and it was expected.

To many in cities across Sindh, it didn't come as a shock when scores crowded markets right before Iftar on the very first day of Ramazan, despite the ongoing lockdown.

In Karachi, large crowds thronged marketplaces before sunset in Saddar, Tariq Road, Lea Market, Gulistan-e-Johar, Gulshan-e-Iqbal, Lalukhet, Liaquatabad, Garden and other localities.

"It was just like last year," observed Danish Ahmed, a resident of Lalukhet. Stating that most among the crowd were purchasing edibles for Iftar, he shared with The Express Tribune that it was after a long time he had seen such a large number of people at once. And none of them were mindful of maintaining distance, he added.

According to Abdul Bari, who lives near Water Pump, markets were crowded before Iftar because people had limited time to buy items. Speaking for himself, he said, "I would certainly want to rush to the market if I know it will be closed soon."

To Salman, a resident of Pan Mandi, "it appeared as if the lockdown was lifted" when he visited Lea Market to buy some fruits. It was because people knew that everything would be closed after iftar, he said, however, adding that people crowding markets an hour before that was very risky.

Another citizen, Mansoor Ali, complained of price hikes. "Due to high demand and shortage of items, we have no choice but to purchase goods as whatever price shopkeepers ask for," he lamented, adding that buyers had little time to waste in bargaining. "Not just the lockdown, but this sudden inflation will also likely be the death of us," he commented.

Meanwhile, residents of Saddar observed that in addition to food items, buyers also crowded shops and surrounded pushcarts selling other articles.

"For a while we thought things were back to normal," said a citizen talking to The Express Tribune, stressing that it was not just the government that was to take responsibility but people too were to be wary of such situations and take care of their health.

He said that his friends had told him that they witnessed similar scenes at the city's other markets.

Published in The Express Tribune, April 26th, 2020.