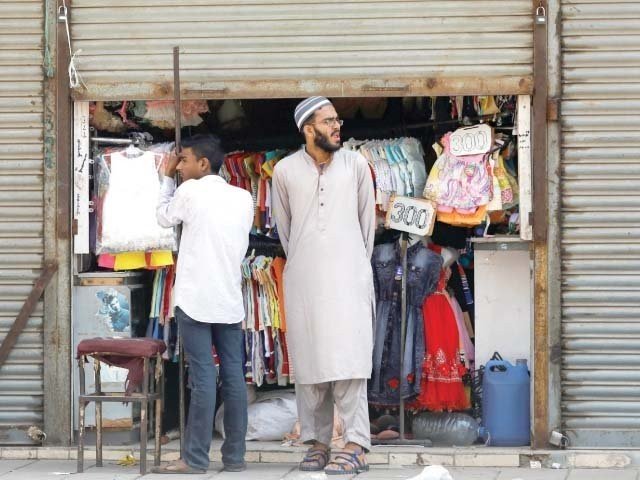 ---
Shutters down, businesses to run only online in Sindh
Minister hints at reconsidering prayer, Ramazan SOPs if situation changes
---
KARACHI: After days of negotiations and dilly-dallying on the matter of opening shops and markets, the Sindh government finally announced on Saturday that traders would only be allowed to resume businesses online and shop shutters would remain down.

"No shop should be opened for public at any cost [and] all orders are to be received online or via phone or field staff," read a notification issued by the Sindh home department on Saturday. The decision was eventually reached following a round of discussion between government representatives and traders on the day.

In Sindh, traders to go online for business

According to standard operating procedures (SOPs) issued by the government in this regard, businesses will operate Mondays through Fridays from 9am to 3pm and all shop owners, employees and delivery staff are subject to following the government directives issued in the wake of the coronavirus outbreak. These include wearing masks and gloves, using sanitisers, maintaining social distance and frequently washing hands while at work.

"The SOPS are applicable to all businesses and no one but employees are to be allowed inside shops," explained a home department official.

Besides, business owners, shop owners and proprietors are required to give an undertaking to relevant deputy commissioners, as well as details of their employees, before resuming operations. Field staff, including delivery persons, are required to wear workplace cards, displaying their names, addresses and contact numbers.

"They are to deliver parcels to customers at their doorsteps after wiping them with disinfectant and then step back," the notification states.

Speaking on the matter, Sindh Information Minister Nasir Hussain Shah warned of taking "strict action against anyone violating the SOPs or allowing customers or irrelevant persons inside their shops."

"The Sindh government has taken this tough decision for people's wellbeing," he said, appealing to citizens to observe social distancing and self-isolation so that the spread of the coronavirus could be contained.

He said that implementing such orders was the need of the hour and such an unprecedented situation necessitated enforcing stricter measures.

As shops shut down in virus fright, some defy Sindh govt orders

"We [the Sindh government], too, are not happy with the decision but are left with little choice," the minister said, however, adding that since the situation was evolving by the day, the government would keep on reviewing lockdown orders issued for different sectors.

Saying that all lockdown restrictions were ordered to ensure people's safety and good health, he remarked that Sindh's residents had faced many difficult times in the past and had been tough and resilient in times of crisis. The way those troubling times were a thing of bygone era, "this too shall pass," he commented.

Ramazan guidelines

Speaking with respect to Ramazan guidelines, the minister said that religious scholars and clerics would be approached again and requested to cooperate with the government on the matter.

He said that any kind of congregation posed a risk to people's lives and expressed hope that the Ulema would cooperate with the Sindh government on the matter as they had been doing so since February 26.

The minister claimed that according to the clauses of the agreement signed between Ulema and President Dr Arif Alvi, the agreement was subject to review at any time and could even be abolished if the need arose. He, however, added that if the situation changed for the better by the end of Ramazan, there was a possibility of the government allowing citizens to pray at mosques.

But for now, people needed to pray at homes, he urged, saying that the pandemic could only be overcome if people cooperated with the government.