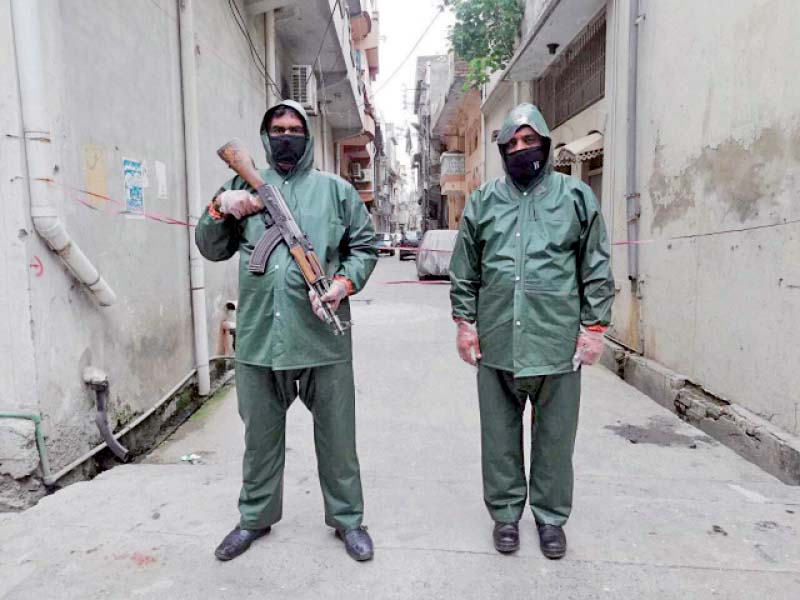 ---
In Rawalpindi, raincoats in high demand as virus spreads
Consumers are using rainwear for protection against the super spreader
---
RAWALPINDI: Something is better than nothing has made a great comeback in Rawalpindi, where people are now using rainwear as protective gear against the Covid-19 virus.

While there is no scientific evidence that suggests that raincoats offer any protection against the super spreader, citizens have been flocking to flea markets to get their hands on one.

"There is no medical evidence that suggests raincoats offer any protection against Covid-19," said Dr Khalid Mehmood Randhawa, a Rawalpindi-based medical practitioner.

Traders in the city, according to consumers, are making the most of the rising demand for rainwear. One consumer claimed the price has doubled over the past few weeks. "It has gone up to Rs.1,000 per piece during the Covid-19 health crisis," he said.

With the number of coronavirus cases rising with each passing day, protection against the respiratory disease is emerging as the number one concern in public.  According to the World Health Organisation (WHO) the use of Personal Protective Equipment, commonly called PPE, which includes gloves, mask, and gown, is important for healthcare providers who are dealing with infected patients.  However, the global health body has advised against the reuse of such items to prevent the spread of the infection.

"Raincoats can't provide the same protection as PPE," said another healthcare expert. Designed for single-use, he said, PPE is disposed of immediately after use.

Personal Protective Equipment, which appears to be standing between the healthcare providers and the infection, is only required at hospitals. The recommended use of the disposable protective gear is for healthcare providers while they are working in higher risk acute areas. Globally, healthcare systems, are struggling with a shortage of PPE because of the Covid-19 pandemic. Healthcare providers in some parts of Pakistan have also raised the red flag.

Interestingly, while healthcare experts have delivered their verdict against rainwear, Punjab police officers deployed at quarantine centres have been asked to wear raincoats over their uniforms. Similarly, security officials deployed outside the Rawalpindi Institute of Urology are using raincoats as protective gear.

Demand for rainwear, according to one vendor, is increasing. Consumers, he said, are also buying similar products online. One consumer said he feels safer while wearing the raincoat.  "It is an extra layer of protection," said Yasser Butt. He wears the raincoat before every visit to the market these days.

Published in The Express Tribune, April 25th, 2020.