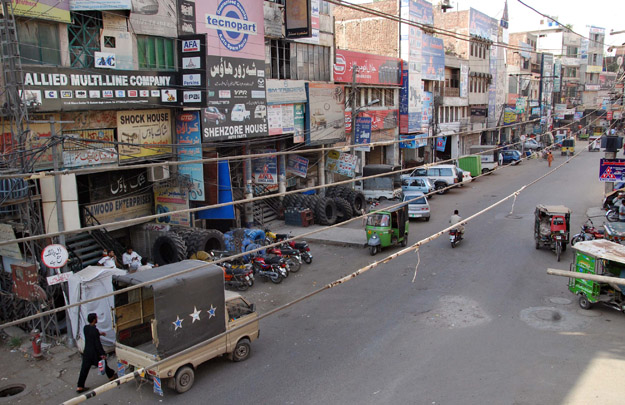 ---
Retailers claim Rs900b loss during lockdown
Organised traders demand monetary support to save sector, 0.6m employees
---
LAHORE: Organised retailers of Pakistan have claimed that the entire sector has faced a cumulative loss of Rs900 billion during 45 days of lockdown in place due to the Covid-19 pandemic.

The pandemic, which has disrupted businesses across the globe, has also dented almost every sector of Pakistan's economy and massive losses are being borne by businessmen. Though the government is making efforts to facilitate different sectors by providing varying concessions, the organised retail sector is still awaiting incentives.

In a letter written to Prime Minister Imran Khan, the Chainstore Association of Pakistan, representing about 200 taxpaying retailers, appealed for monetary support to save the sector and its skilled and semi-skilled workforce, which numbered around 600,000 individuals.

The association has demanded suspension of payment of all federal and provincial taxes for a minimum of six months followed by a reduction in general sales tax to 6%.

"Given the declining purchasing power in the country, businesses can no longer remain viable and operate if they pay 14-17% general sales tax," the association said.

The traders' body stressed that all principal loan payments should be deferred for one year while interest payments should be waived altogether.

The letter emphasised that new low-cost/interest-free loans should be introduced against current assets only for the retail sector, especially for those companies that did not have existing loans, with disbursement period of less than 30 days.

The traders also asked the government to provide legal cover for rental waivers for a minimum of three months for all commercial properties and issue notifications for the special protection of tenants from eviction over the next 12 months.

The letter stated that the retailers needed direct monetary support (partial, if not complete) to keep their employees over the next three months. Pakistan's retail and wholesale sector contributes around 16% to the gross domestic product ie around Rs7 trillion annually.

According to the Pakistan Bureau of Statistics, female employment in the retail (services) sector in 2017-18 was 17.3% or 300,000 of the total employees. This means that the retail sector has a significantly higher female participation rate compared to hospitality, public administration, finance, construction and transport sectors.

"The sector, in general, has suffered a loss of almost Rs900 billion in the past 45 days," remarked Chainstore Association of Pakistan Chairman Rana Tariq. Hundreds of thousands of jobs were now at stake, he added.

"We need to take right decisions at the right time or else the loss will be irrecoverable, which will also hit thousands of white-collar families," he added.

Sana Safinaz Director Altaf Hashwani said his team was an integral part of the business and he wanted to retain the workforce but without immediate support, an industry that had lost weeks of revenues would be unable to sustain for much longer.

"Without a customised package, the organised retail sector will be forced to lay off workers, leaving a large chunk of skilled and semi-skilled workforce without employment and negatively impacting the growing middle class in the country," Hashwani said.

Supporting his views, Hub Leather Managing Director Asfandyar Farrukh said businessmen such as him felt overlooked when the government announced hundreds of billions of rupees in relief primarily for exporters and big businesses, which were already leveraged.

"The SBP scheme for wage relief seems good on paper, however, private banks are not willing to take the risk of giving loans to small and medium-sized enterprises (SMEs), especially where collateral and quick approval is an issue," he expressed concern."There is still some hope that the government will announce relevant measures and ensure fast delivery for those who need it."

Cross Stitch Chief Executive Officer Asad Shafi said the SBP relief was only viable for exporters or companies that were operating on partial or full capacity. With a complete shutdown, how did the government expect a retailer to utilise the scheme, he asked.

"We are unable to meet our current financial liabilities including those to banks and vendors, how will we further add debt and pay interest in a model where there is no revenue," Shafi regretted.

Published in The Express Tribune, April 25th, 2020.

Like Business on Facebook, follow @TribuneBiz on Twitter to stay informed and join in the conversation.