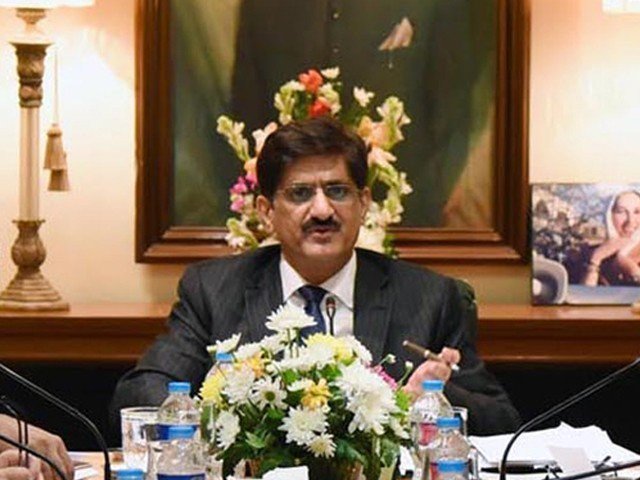 ---
As tally rises, Sindh 'struggling' to contain Covid-19: CM
274 more cases, two more deaths reported in province on Friday
---
KARACHI: Sindh Chief Minister Syed Murad Ali Shah said on Friday that his government was "struggling" to contain the pandemic as the number of deaths and infected persons continued to rise simultaneously.

In a video message, the CM shared that the coronavirus had claimed two more lives, raising the infection death toll in the province to 75. Further, he said, 274 cases had emerged on the day, pushing Sindh's coronavirus tally to 3,945. Besides, among the infected persons, 49 were in critical condition, including 15 those put on ventilators, he said.

"The situation is such, fighting against which we are struggling to slow down the spread of the virus," he remarked.


Sindh Chief Minister Syed Murad Shah says 274 new cases of Coronavirus detected, two more patients died & 49 are in critical condition.... pic.twitter.com/JLUXz4zKlk

— Sindh Chief Minister House (@SindhCMHouse) April 24, 2020


Providing a breakdown of the newly-reported 274 cases, the CM said that 202 of them belonged to Karachi and 71 had emerged in other areas of the province. In Karachi, 88 cases were reported in South district, 60 in East district, 28 in Central district, 21 in Malir and six in West district, he added.

"The tally in Karachi has reached 2,285," he said, explaining that of the stated number of cases, 736 belong to South district, 28 to Central district, 553 to East district and 277 to West district.

Speaking with respect to local transmission, the CM said, after Karachi, Sukkur had witnessed the highest number of locally transmitted cases, adding to 14.

"So far, 14 cases of local transmission have been reported in Sukkur, one each in Umerkot, Tando Allahyar, Sanghar, Qambar-Shahdadkot and Badin," he said.

He added that 42 patients were sent home after recovery on the day, raising the number of recovered patients to 772 - 20 per cent of the total reported cases. That left 3,100 patients under treatment, 1,893 of whom have been isolated at home, 767 in isolation centres and 440 at hospitals, according to the CM.

The CM also shared that 765 Tableeghi Jamaat members had tested positive thus far, while the results for four others were awaited.

Also appreciating doctors for playing their roles in fighting the pandemic, he said, "We thought that they would be fighting the pandemic on the frontlines but later realised that they were our last line of defense. We ourselves are fighting the pandemic on the front line and once infected, we have to go to doctors who are the last line of defence."Stranded citizens

Also sharing details about Pakistanis stranded in other countries, he said that six flights, carrying 849 persons, including 62 crew members, had flown back so far. All of those 849 people had been tested and 127 among them had tested positive while 696 were cleared of the infection and the results of 26 were yet to come, he added