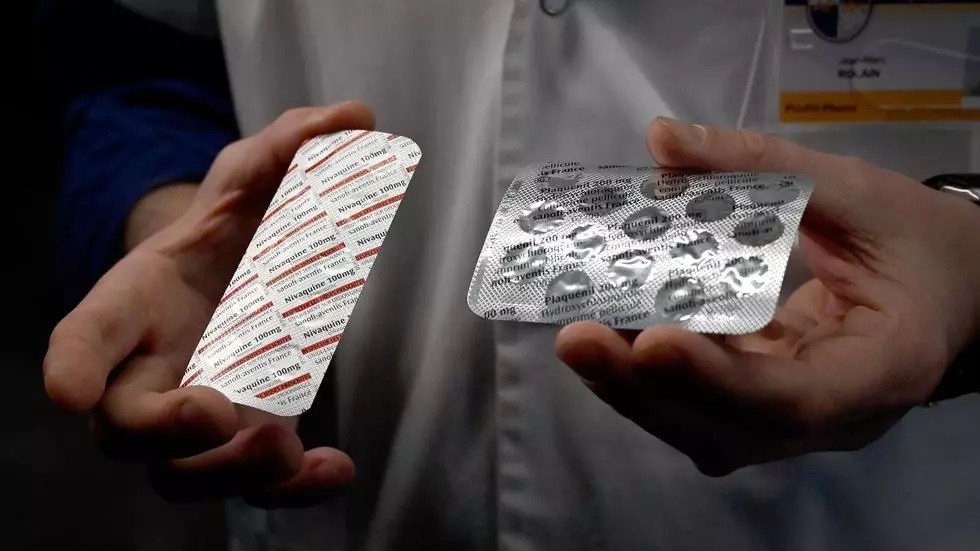 ---
The chloroquine conundrum
With the lack of sufficient healthcare infrastructure, Pakistan is teetering on the edge of potential disaster
---
Pakistan has had a questionable engagement with the Covid-19 pandemic with analysts terming the state's response as complacent, supplemented by a refusal to follow social-distancing guidance by congregating for prayers and living in densely populated communal spaces. With the lack of sufficient healthcare infrastructure, Pakistan is teetering on the edge of potential disaster with over 11,000 cases and 237 deaths. These are much better numbers than Italy (25,549 deaths), Spain (22,157 deaths) and UK (18,738 deaths) — all of which have much lower populations and population densities than Pakistan. This corresponds to a scientific debate on the prophylactic effects of the anti-malarial drug hydroxychloroquine (HCQ) — found in malaria affected regions like South Asia and Africa — one most vociferously fought in the US.

On March 21, US President Donald Trump tweeted, "Hydroxychloroquine and Azithromycin, taken together, have a real chance to be one of the biggest game changers in the history of medicine." On March 29, the United States Food and Drug Administration (FDA) issued an emergency use authorisation for these "decades-old malaria drugs" to be "donated to the Strategic National Stockpile" and be green-lit for distribution and prescription for adult patients. All this happened in two weeks with a March 13 tweet by cryptocurrency investor James Todaro and New York lawyer Gregory Rigano sharing a Google Doc link to a paper discussing chloroquine trials in China and France showing a prophylactic potential against Covid-19. With a few notable mentions from US right-wing media, the President entered the stage and spearheaded it as the government's central focus.

Medical experts from Yale's Interdisciplinary Center for Bioethics and University of Washington have criticised the President's remarks as irresponsible, advising against spearheading mass-consumption efforts before definitive trials. Even in miniscule doses, chloroquine is notably toxic and patients have been hospitalised in Wuhan and Nigeria. Yet, research is indicating the contrary, where a joint paper in February, by the Wuhan Institute of Virology and Beijing Institute of Pharmacology and Toxicology referred to chloroquine as a "potential broad-spectrum antiviral drug" which is "highly effective in the control of 2019-nCoV infection in vitro". A similar assertion by South London and Maudsley NHS Trust and Kings College London contended a similar case through the use of cartographic comparison of malaria and Covid regions.

Drawing reference from a study published by Vincent et al (2005) on the antiviral effects of chloroquine on SARS–CoV, in addition to research by Yao et al (2020), Wang et al (2020) and Touret and De Lamballerie (2020), the research concluded a negative correlation between the prevalence of anti-malarial prophylaxis and Covid-19 infection as a result of HCQ consumption. As a step in the direction of scientific research, the University of Oxford began clinical trials on Hydroxychloroquine Prevention of Coronavirus Disease in March which are now progressing to human trials.

Off-label usage (using an approved drug for unapproved indications based on scientific evidence) is the current case for HCQ. In the absence of a definitive cure, testing the curative potential of this treatment merits significance. Regions with large incidents of malaria and anti¬-malarial drug use can thus serve as perfect grounds for herd immunity resistance testing. Whether one may argue in favour of geographic factors like humidity or exposure, it is fair to say that the discussion on HCQ is contested and inconclusive. The above-mentioned discussion thus warrants attention and serves as a suitable starting point for conducting experimental treatment in countries like Pakistan, to supplement extant clinical trials. 

Published in The Express Tribune, April 25th, 2020.

Like Opinion & Editorial on Facebook, follow @ETOpEd on Twitter to receive all updates on all our daily pieces.