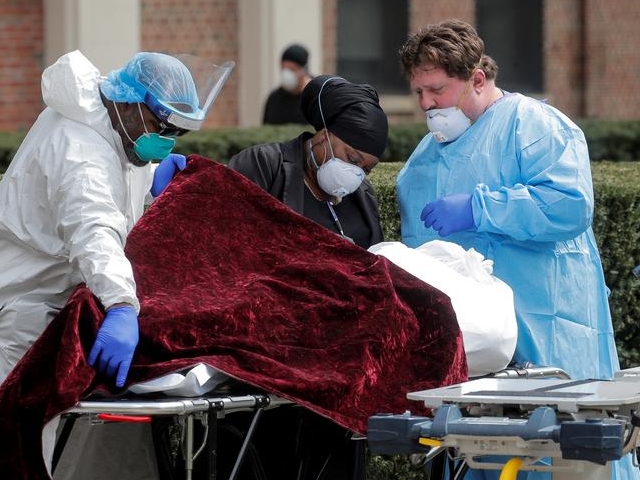 ---
Three more Pakistanis die of coronavirus in US
Majority of Pakistanis have died in New York and New Jersey, says journalist living in the US
---
As coronavirus cases continue to spike in different areas of the United States – with more than 856,000 confirmed cases in the country – three more Pakistanis succumbed to the virus in Chicago over the past week.

Sources in the Pakistani Consulate confirmed the development and said that more than a dozen Pakistanis are in isolation centres and are under treatment.

"The three people who died included an owner of the Usmania Restuarant, Mohammad Islam alias Islam Bhai, 72, in the Devon Avenue, where a majority of Pakistanis live. Two other men aged 60 and 76 also passed away," said an official from the consulate requesting not be named.

According to community activists, the funeral prayers of the deceased persons were held at the Islamic Centre in Chicago and they laid to rest in the local graveyard.

"We used to visit the Usmania Restaurant whenever any Pakistan guest would come. It is famous for traditional Pakistani food. The owner of the restaurant, who belonged to Karachi, along with her daughter, was tested positive for coronavirus. Both were treated by the medical team and were sent home. But suddenly, the health of Islam Bhai deteriorated and he was put on the ventilator and passed away, but his daughter survived," said M Ishaq, a Pakistani citizen, who lives in the city.

Chicago, in Illinois, has seen Covid-19 cases jump to 35,108 with 1,565 deaths.

As per official reports, as many as 374 members of the Chicago Police Department have tested positive for the deadly virus.

"Three Pakistani women who live near South Lake Shore have tested positive and have been kept in isolation," said another Pakistani citizen, who lives in the area.

As New York state is the worst-hit in the pandemic, officials had earlier said around 80 Pakistanis have succumbed to the virus in the region.

Fahim Mian, a Pakistani journalist who lives in New York, however, said that the number of Pakistani deaths in the US has reached around 250.

"Majority of Pakistanis have died in New York and New Jersey," he said.

"In New York, Pakistanis live in Queens and Brooklyn, which are worst-hit by the pandemic. Many families are unwilling to share information," he added, but no official has confirmed the claim.

Pakistan's Ambassador to the US Asad Majeed Khan had earlier said that it was difficult for them to give the total deaths toll of Pakistanis living in various states of the country.

"Covid-19 cases and deaths are recorded by the NY government, and we will know the exact number after the data is released by the officials," he said.