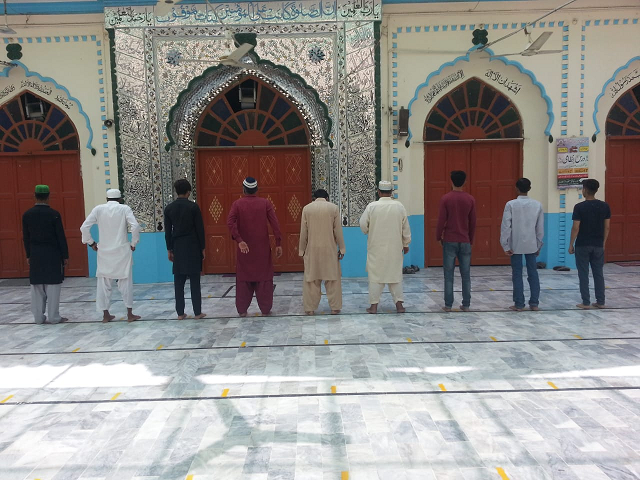 ---
Deserted during the day, Karachi comes alive on Friday evening
Though citizens offered Friday prayers at home, they crowded markets for Ramazan shopping past 3pm
---
KARACHI: On Friday, Karachiites woke up to quietness and silence, broken only by frequent announcements by several mosques at noon, requesting citizens to offer Friday and Taraweeh prayers at home, in light of the Sindh government's orders.

With the majority of citizens staying at home as a result, prayer leaders across the city delivered Friday sermons behind closed doors in largely vacant mosques. In most of them, no more than seven to 10 people joined the prayer congregation.




"Keeping in view the ban on public gatherings imposed by the Sindh government, it was ensured that government guidelines pertaining to Friday prayers were observed," explained Asif Iqbal, the administrator of a local mosque in Karachi, adding that the assembly would be limited to five to seven people in each mosque for Taraweeh prayers as well.

Meanwhile, shops in the metropolis, too, remained shuttered. Milk, vegetable, fruit and even medical stores were closed, particularly in Liaquatabad, Azizabad, Nazimabad, Lasbela, Kaemari, SITE, Malir, Kharadar, Landhi, Korangi and other areas, from noon to 3pm, owing to government orders of a complete lockdown in the afternoon.

Authorities had also taken pre-emptive measures to ensure that all citizens complied with the lockdown orders, in light of the earlier episodes of defiance and dissidence on Fridays.

Traffic flow was slowed down as police placed roadblocks on the city's thoroughfares including MA Jinnah Road and Sharae Pakistan, restricting citizens' movement. Besides, law enforcement personnel continued to patrol various areas to prevent citizens from venturing out unnecessarily.

With most staying locked inside their houses, Karachi was a deserted jungle of concrete on Friday noon.

However, the spell of stillness broke past 3pm, with scores visiting markets to shop ahead of Ramazan. Citizens crowded shops selling groceries, vegetables, khajla, pheni, gram flour, meat, wrappers for rolls and samosas and other staple Ramazan food items.

Mohammad Raza, who sold pheni to a large number of people on the day, observed that many bought khajla and pheni from his shop for Rs400 to Rs450 per kg to consume at sehri. These Ramazan staples are also available at bakeries and sweet shops, in addition to roll and samosa wrappers for around Rs200 per kg.

And all this while, citizens and shopkeepers both were seen throwing all precautions to the wind, showing complete disregard for instructions pertaining to maintaining social distance and wearing masks.

Some retailers, though, said they had observed a drop in sales due to the pandemic.