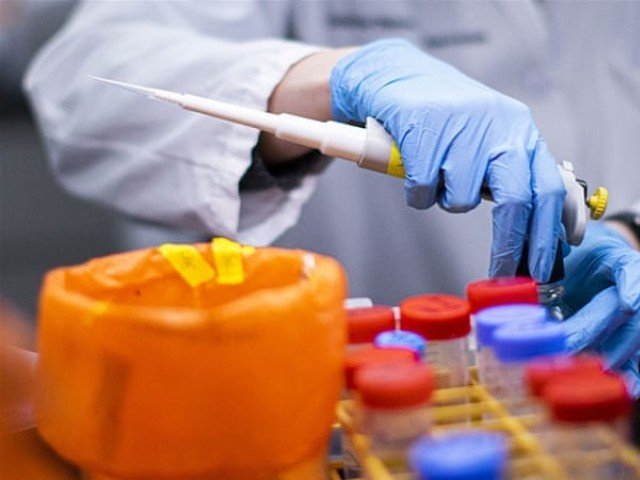 ---
Lab set up at KU to boost testing capacity
Current capacity of biosafety level-III lab to be enhanced to 2,400 tests per day
---
KARACHI: As coronavirus cases soared past 3,500 in Sindh, with 298 more reported on Thursday, in addition to four more infection-related deaths, the Sindh government established a bio-safety level (BSL)- III laboratory at the University of Karachi's International Centre for Chemical and Biological Sciences (ICCBS), aiming to increase the province's testing capacity.

In a video statement, Sindh Chief Minister Syed Murad Ali Shah shared that though the laboratory currently had the capacity to carry out 800 tests a day, it was being equipped for conducting 2,400 tests daily.

He said that the testing facility housed all required tools and machines, as well as trained staff, adding that kits for ribonucleic acid extraction from samples and reverse transcription polymerase chain reaction for testing were also being provided to ICCBS head Dr Iqbal Choudhary

Claiming that the laboratory was the largest public sector testing facility in the country, the CM said that its establishment was "good news."

Coronavirus prevalence

However, he also expressed concern over the most number of coronavirus cases in the province being reported from Karachi for the second consecutive day. He said that what was more worrisome was that majority of the cases were those of local transmission and "the situation warrants drastic measures."

According to the details shared by the CM, of 298 cases on Thursday, 202 belonged to Karachi. Among those, 67 cases were detected in South district, 79 in Malir, 29 in Central district, 25 in East district, 19 in Korangi and six in West district.

All in all, 436 cases had been reported from Central district, 491 from East district, 250 from Korangi, 234 from Malir, 646 from South district ad 273 from West district thus far, the CM said. "So, Karachi now has 2,330 positive coronavirus cases," he added.

The CM further said that the emergence of 298 cases on Thursday had swelled the province's coronavirus tally to 3,671 and with four more deaths on the day, the death toll had reached 73.

Speaking about Tableeghi Jamaat members, he said that all of them had been tested for the virus and 764 were founded infected, 4,231 had been cleared of the infected and results for 17 were awaited.

Besides, the CM said that 913 citizens who were stranded outside the country had returned to Karachi and 98 among them had tested positive for the coronavirus.

He added that at present, 2,934 patients were under treatment in Sindh, and among them, 1,871 were isolated at their homes, 649 in isolation centres and 423 at various hospitals.

Published in The Express Tribune, April 24th, 2020.