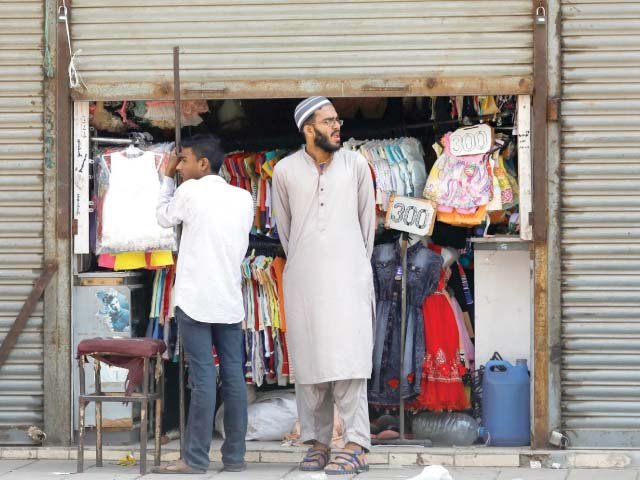 ---
In Sindh, traders to go online for business
Shops to open only for home delivery, receiving consignments
---
KARACHI: The Sindh government and traders have come to an agreement to carry out online sales, instead of opening the markets, in order to minimise human interaction during the pandemic.

All Karachi Tajir Ittehad (AKTI) representatives met provincial ministers on Thursday, deciding upon a model for online business was decided.

According to the traders' association, the provincial government has allowed them to carry out online sales, as well as opening shops from 9am to 3pm from Monday to Thursday to receive consignments and carry out home deliveries. The markets, however, will remain closed otherwise.

The Karachi commissioner is to issue a notification regarding the standard operating procedures for online sales on Friday (today), which have been compiled in consultation with the government and the traders.

AKTI leader Sharjeel Goplani explained that there would be only one shopkeeper or salesman present inside each shop.

The staff at the shop must also wear face masks and gloves, use hand sanitisers and take all necessary precautions against the virus. It will also be mandatory to follow social distancing guidelines and monitor the body temperature of each staff member.

As shops shut down in virus fright, some defy Sindh govt orders

Furthermore, shopkeepers will have to compile records of all the deliveries, while purchases are to be made through e-invoices given to the customers. The purchased items will be delivered to homes.

Remanded

Earlier in the day, a local court sent six traders, who were arrested on Wednesday, on a two-week judicial remand in cases pertaining to the unauthorised opening of markets amid the lockdown.

The Napier police presented the six accused, namely Hamad Poonawala, Mohammad Ehsan, Mohammad Khalil, Javed Abdul Shakoor, Malik Aqeel and Faisal Hassanzai, before the South judicial magistrate in the Karachi City Court.

The investigation officer stated that the accused had been charged with violating the lockdown, inciting people to violence and rioting.

Subsequently, the court rejected the bail plea of the accused's lawyers and sent them to jail on 14-day judicial remand.

Following the hearing, business leader Arif Jiwa, speaking to the media, claimed that the business community had become a victim of the ongoing battle between the federal and provincial governments, adding that one could not be pleased without upsetting the other.

He further maintained that it had been agreed that businesses would reopen an hour after recommendations were made to the Sindh governor, claiming that this was to be a test run for the implementation of standard operating procedures. However, once businesses were opened the traders were arrested, he added.

Jiwa insisted that the Sindh government should be providing traders with facilities instead of arresting them, as they are the backbone of the economy. He appealed to Sindh Chief Minister Syed Murad Ali Shah to have the arrested traders released immediately.