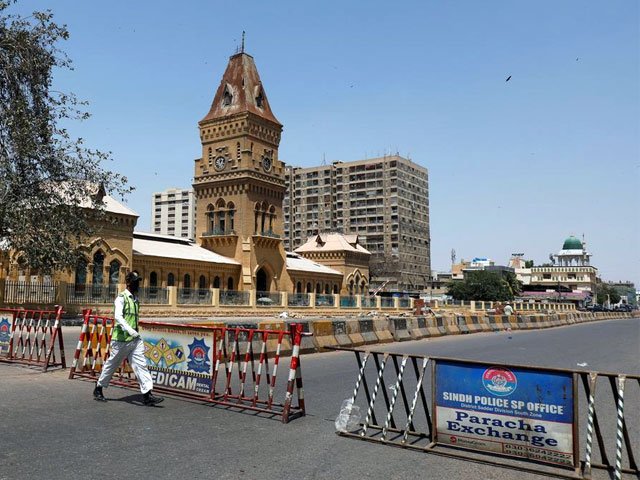 ---
As pandemic escalates in Karachi, villagers maintain distance from city dwellers
Rural residents wary of relatives visiting them from urban centres, where Covid-19 is on the rise
---
KARACHI: As Covid-19 cases continue to rise in Karachi, the residents of the metropolis are no longer welcomed as warmly as before in other towns and cities of Sindh. It is no wonder that Karachiites, too, now feel perplexed and hesitant about travelling outside the city, observing the unwelcoming gestures of the residents of other cities and towns over the last week.

This was evident when Abdul Aziz, a government official, tried to bar his family from interacting with some relatives from Karachi in a village near Badin.

On Sunday, relatives from the metropolis reached the village to offer condolences over the sudden demise of a family member.

"I was not expecting that people would come from Karachi," said Aziz, going on to say, "The sudden arrival of the guest was a bigger shock than the sudden demise of my family member."

Aziz had tried to convince his family not to interact with his relatives from Karachi, as he pointed out that they resided in one of the coronavirus hotspots.

"How can I put my family members' lives at risk?" he questioned, saying that the virus was yet to rear its head in the village. Those coming from hotspots could spread it to villages, he feared.

Similarly, when Ghulam Mustafa, who resides in Mehmoodabad, Karachi, visited his native town Qazi Ahmed last Friday, his cousins asked him not to visit them for at least a few days, he told The Express Tribune.

"People in rural areas believe that the virus is limited to the cities," he said, adding that he too had moved back to his native town out of fear of getting infected.

However, he thinks that the fear among people outside Karachi is understandable. Saying that those aware of the situation were particularly maintaining distance from the residents of virus hotspots, Mustafa admitted that he too would be wary of meeting people from Larkana, where the contagion spread was picking up.

Likewise, when Asif Ali visited his native village near Bakrani from Karachi, even his own family members stayed at a distance from him. But the people in his village were also maintaining a distance from those visiting from Larkana, observed Ali - a realisation that gave him some solace.

"Thank god that they were not just so with Karachiities," he said, sharing that on his arrival, his relatives had insisted that he took a bath and changed clothes before anything else.

The worry had also gripped Abdul Sattar when he came to know of the plans being made by one of his relatives to visit their native village near Gharo. Knowing that the relative had recent travel history, he told him not to visit.

"He had tested negative but prevention is better," stressed Sattar, adding that there was no need to visit anyone during the lockdown. He further pointed out the in cities, where infrastructure was better than villages, the situation was still being handled better. "Once the virus reaches our villages, it will ruin us."

Professor Mazhar Ali, who had moved with his family to Larkana after the number of cases rose in a neighbourhood near his residence in Karachi, was surprised to see how strictly people observed social distancing in the smaller city. It was not so in Karachi, he observed, adding that shops in Larkana too were closed on time.

"There is a fear of virus in rural areas," he said. "Even though social distancing is against the cultural norms in rural areas, I see people observing it."

Published in The Express Tribune, April 23rd, 2020.