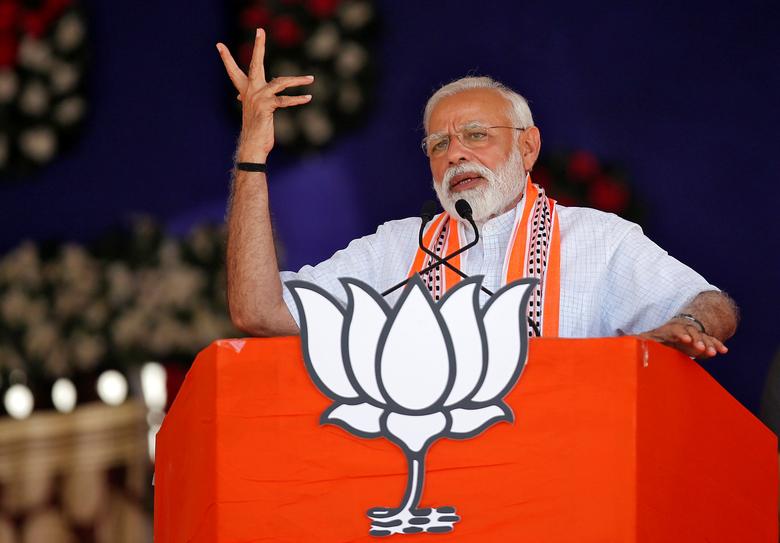 ---
The difference between India's Prime Minister Narendra Modi and New York's Governor Andrew Cuomo is that when Modi kept his usual silence over the blame on Muslims for the spread of coronavirus in India, Cuomo was clarifying that Latinos or African Americans were the hardest hit because they were the ones doing frontline jobs to keep New York safe. While Cuomo pulled a tab on the possibility of racism getting over his people's psyche, Modi's indifference further flamed communal sentiments which manifested in segregated hospitals, denial to buy anything from Muslims and lynching them. One BJP minister even called it a "Talibani crime" because a congregation held in Delhi by the Tablighi Jamaat is considered the prime vehicle for the spread of the virus in India.

"Muslims have now seen their businesses across India boycotted, volunteers distributing rations called 'coronavirus terrorists', and others accused of spitting in food and infecting water supplies with the virus. Posters have appeared barring Muslims from entering certain neighbourhoods in states as far apart as Delhi, Karnataka, Telangana and Madhya Pradesh," reports The Guardian.

Instead of promoting solidarity and the value of cohesion in this time of crisis, the Indian media has been busy establishing a link between the spread of the virus and Muslims. A cartoon in the leading Indian newspaper, The Hindu, showed the coronavirus as a terrorist dressed in Muslim attire. In another report on a TV channel India Today, the figures for corona cases were superimposed on Muslim prayer caps.

"This is not journalism, this is hatemongering," responded left-wing activist Kavita Krishnan, in a viral video. "History will remember you, history will judge you."

Historically, epidemics, especially the one with no cure, had always sparked hatred and blame of the 'other' but in the case of India, this hatemongering is the continuation of the Hindutva project to marginalise Muslims. Ever since Modi has become the prime minister of India in 2014, life for Muslims has turned into a horror season with multiple and unending episodes of intimidation and fright.

Modi's first tenure, from 2014 to 2019, was marked with the poisoning of the public discourse to make Muslims into pariahs and turn India into a Hindu state. Vigilante mobs would attack Muslims and lower-caste Hindus for either eating cow meat or transporting cattle. A report by IndiaSpend found that Muslims were the target of 52% attacks related to consuming beef from 2010 to 2017; 97% of those attacks happened after Modi took power, and 84% of those killed were Muslims.

Modi's second tenure was action-packed. Hardly two months into power, in August 2019, the BJP government ended Kashmir's status of an independent state by scrapping Article 320(A) from India's Constitution. Subsequently, curfew was imposed that turned, for months, the region into a virtual jail. The imprisonment continues albeit with a different name — lockdown.

A few weeks later another action was moved onstage. Designed to bring Hindu immigrants into the Indian citizenship fold, the Citizen Amendment Act had a clear line bifurcating Muslims from non-Muslims. The law gave the right of acquisition of citizenship to those Hindus, Sikhs, Buddhists, Christians, Parsis, and Jains, who had arrived in India from Pakistan, Afghanistan, and Bangladesh before December 31, 2014. Modi described the law in these words: "We passed this bill to help the persecuted." The statement alluded to the popular but wrong belief that Muslims have had a penchant to badger non-Muslims. Basically, the CAA was the antidote to address the anomaly caused by the National Register of Citizens exercise, under which people from the state of Assam were asked to prove if whether they were Indian citizens or "infiltrators". The exercise left 1.9 million Muslims stateless, as they failed to support their claim that having lived in India for decades they were part of India — its citizens. In its track, hundreds and thousands of Hindus were also affected, but with the passage of the CAA, they received the privilege to stay on, while detention camps were built on the borders of Assam to accommodate 'illegal' Muslim immigrants.

When the coronavirus hit India, people were on the streets protesting against the CAA. Students and human rights activists were dealt with cruelly by the Indian police force. Universities were vandalised and protestors were beaten up like animals in front of TV cameras.

One of the reasons behind the spike of Islamophobia in the wake of the coronavirus outbreak could possibly be the long-held anti-Muslim idea that Muslims themselves are a kind of infection in the body politics. "So, there's a kind of affinity between this longstanding image and the new anxieties surrounding coronavirus," says Arjun Appadurai, a professor of media, culture, and communication at New York University who studies Indian politics.

More than anything else, pigeonholing corona as a Muslim conspiracy has exposed Modi's hatred for Muslims. So bad had the situation become that it prompted a US-based human rights organisation, the Equality Lab, and the World Health Organization to issue a guideline against Covid-19 hate speech and disconnect it from religious communities.

Published in The Express Tribune, April 23rd, 2020.

Like Opinion & Editorial on Facebook, follow @ETOpEd on Twitter to receive all updates on all our daily pieces.
COMMENTS
Comments are moderated and generally will be posted if they are on-topic and not abusive.
For more information, please see our Comments FAQ