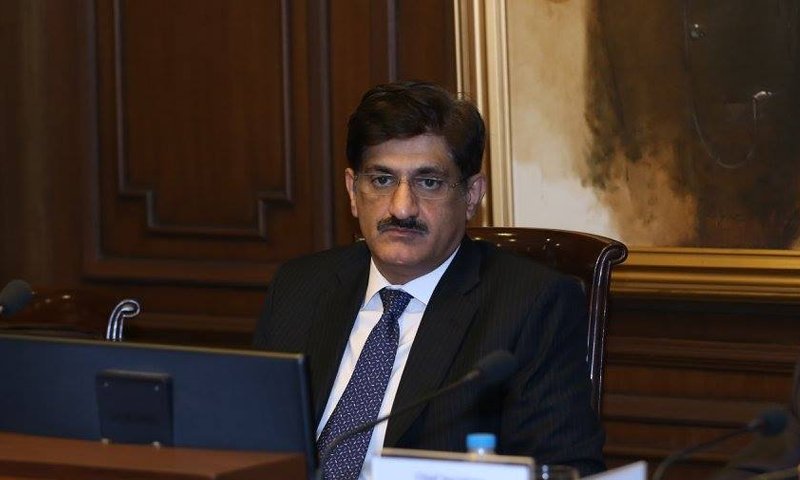 ---
Sindh CM worries over surge in local transmission of Covid-19
Provincial capital worst hit by such cases, with 1,300 locally transmitted cases
---
KARACHI: Sindh Chief Minister Syed Murad Ali Shah sounded alarm on the emergence of over 300 locally transmitted coronavirus cases in Sindh on Wednesday - the highest in a day so far.

In a video statement, he revealed that a total of 320 coronavirus cases were reported in the province on Wednesday and among them an astounding 308 were those of local transmission.

"It means the ratio of locally transmitted cases is now 15.2 per cent of the reported cases," the CM explained.

This was the highest number of locally transmitted cases ever witnesses by the province, he expressed worry, adding that Karachi had turned out to be worst hit in terms of local transmission cases where the tally had peaked to 1,300.

The CM also shared that three more Covid-19 deaths were reported in Sindh on Wednesday, raising the death toll to 69 in the province.

Elaborating further, he said that results of 2,097 samples came on Wednesday, of which 320 were positive, raising the province's coronavirus count to 3,373.

Chinese city tightens coronavirus travel curbs in biggest outbreak

The current scenario

Speaking with respect to the situation in Karachi, the CM said that its South district, where 578 cases, including 79 on Wednesday, were reported, was the worst affected by the contagion.

"Almost all cases in the district are of local transmission," he said.

He further said that 468, including 42 on Wednesday, were reported in East District. Among those, 20 infected persons belonged to the Tableeghi Jamaat and 448 were infected via local transmission. Similarly, 259 cases have been reported in West district so far, 179 in Korangi district and 406 in Central district.

Giving an update on coronavirus cases in Hyderabad, the CM said that so far, 229 cases were reported in the district, including 19 on Wednesday. Of those, 158 were detected in Tableeghi Jamaat members and 71 were of local transmission.

PM Imran launches Ehsaas Emergency Cash Information Portal

"This is quite serious and worrisome and a result of non-compliance with [pandemic] SOPs and social distancing [guidelines]," he remarked.

In Larkana, the CM said, 65 coronavirus cases were reported thus far- 42 detected among Tableeghi Jamaat members and 23 of those infected via local transmission.

Speaking about Sukkur, the CM said that of 356 cases in Sukkur, 273 were pilgrims, 76 Tableeghi Jamaat members and seven locally transmitted.

Expressing dismay, he said that while the pilgrims were isolated in Labour Colony in Sukkur, their defiance and refusal to follow government instruction had resulted in local transmission in the district.

"Now, it is the responsibility of people, particularly heads of families, religious scholars and others who have some influence, to guide others and encourage to adopt precautionary measures and social distancing, otherwise it [coronavirus] would spread fast in densely populated urban and rural areas and create havoc," he warned.

COAS assures nation of 'all possible measures' in war against coronavirus

He also pointed out that with Sindh reporting 320 more cases, the country's coronavirus tally had climbed to 10,069.

"These are not ordinary circumstances and were will have to handle the situation with extra care and attention," he said.