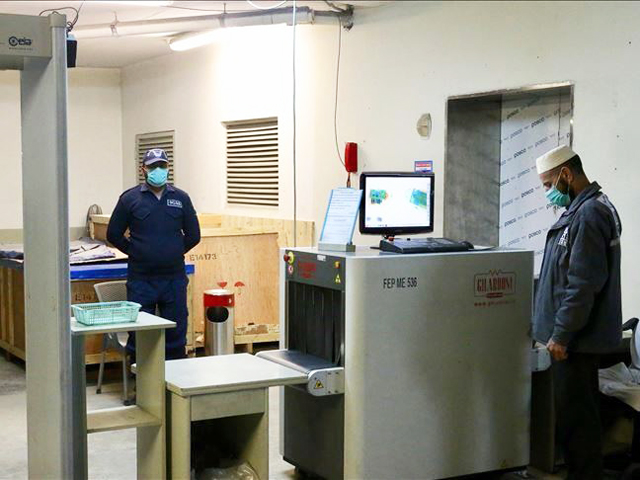 ---
Superstore closed as employee catches coronavirus in Karachi
All the staff members of the store have also been tested for Covid-19
---
KARACHI: A branch of Metro Cash and Carry, located at University Road in Karachi, was closed on Wednesday till further notice after an employee tested positive for coronavirus.

According to the store management, the employee had returned to work after a long vacation and was tested after he showed symptoms of the virus.

All the staff members of the store have also been tested for Covid-19, they claimed. Meanwhile, the management also stated that it was disinfecting the whole building and was following the guidelines suggested by the government to prevent the spread of coronavirus.

Meanwhile, Sindh Chief Minister Syed Murad Ali Shah sounded alarm on the emergence of over 300 locally transmitted coronavirus cases in Sindh on Wednesday - the highest in a day so far.

Lyari's dissidents pose challenge for health officials

In a video statement, he revealed that a total of 320 coronavirus cases were reported in the province on Wednesday and among them an astounding 308 were those of local transmission.

The CM also shared that three more Covid-19 deaths were reported in Sindh on Wednesday, raising the death toll to 69 in the province.

Elaborating further, he said that results of 2,097 samples came on Wednesday, of which 320 were positive, raising the province's coronavirus count to 3,373.

Speaking with respect to the situation in Karachi, the CM said that its South district, where 578 cases, including 79 on Wednesday, were reported, was the worst affected by the contagion.

"Almost all cases in the district are of local transmission," he said.

Chopping the lockdown locks at home

He further said that 468, including 42 on Wednesday, were reported in East District. Among those, 20 infected persons belonged to the Tableeghi Jamaat and 448 were infected via local transmission. Similarly, 259 cases have been reported in West district so far, 179 in Korangi district and 406 in Central district.