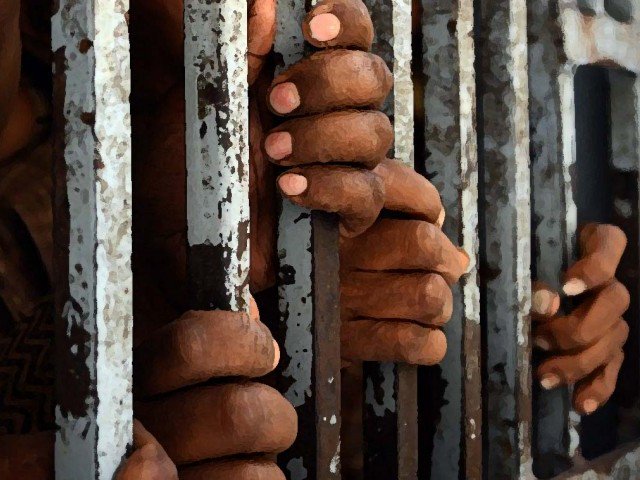 ---
Sindh IG Prisons asked to explain exclusion of NAB convicts from special remission
The advocate maintains that the exclusion is unconstitutional
---
Advocate Muhammad Asad Ashfaq wrote a letter to Sindh Inspector General (IG) Prisons Nusrat Hussain Mangan pertaining to the exclusion of NAB convicts from receiving the special 60-day remission amid the pandemic.

On March 13, the IG's office had granted special remission of 60 days to all convicts except those convicted of "espionage, anti-state activities, subversion, terrorism, Karo Kari, NAB and Foreigner Act, 1946," the letter stated.

However, the advocate raised concerns over the exclusion of only NAB convicts. He maintained that, "It may be clarified that Section 10(d) of the National Accountability Ordinance, 1999, which excluded remissions for convicts of NAB cases, was declared to be ultra vires the Constitution of the Islamic Republic of Pakistan.

"Therefore, till date, no law of the land bars the grant of remissions to those convicted for NAB cases until the NAO, 1999."

Moreover, Advocate Ashfaq said the letter issued by the office does not mention the reason for the exclusion of NAB convicts, while those convicted under other white-collar crime laws have been allowed to enjoy the benefits.

He requested the IGP Sindh to state reasons for depriving NAB convicts the same rights given to others.

"Therefore, as a concerned citizen and an advocate of prisoners' rights, in the exercise of my right to information, I request you to furnish the reasons for depriving convicts of NAB cases of the grant of special remissions despite there being no bar under any law for the same," the letter stated.

The advocate has also asked the IG Prisons to revisit the letter and grant the excluded NAB convicts the special remission.