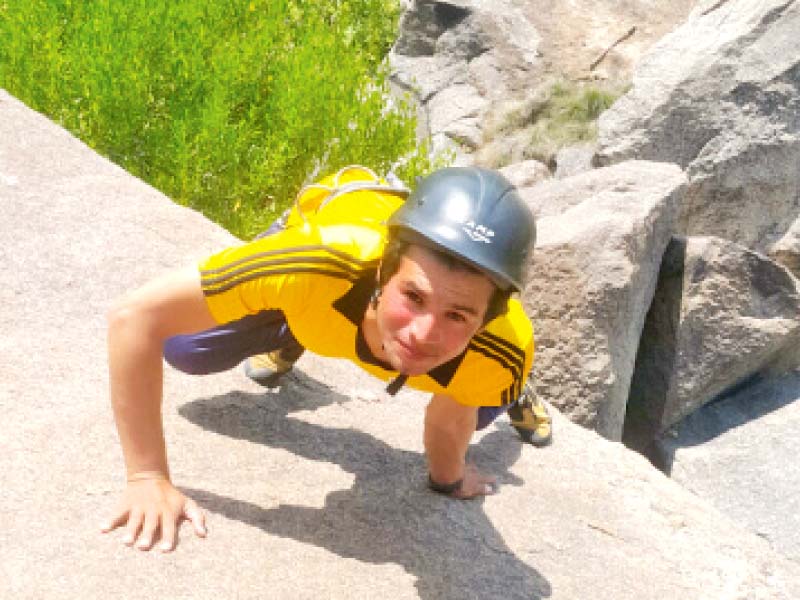 ---
SWABI: While many know their calling from the get-go, there are others like Yasin Ali who chance upon their dreams more by accident than by design. Burdened by circumstances, the 24-year old athlete from Swabi started his career as a daily wager not too long ago. However, he had no knowledge that a soon to happen serendipitous encounter at one of his jobs was waiting to change his life forever.

The day started off like any other, with Ali waiting for someone to come offer him any menial work for a small price and it was soon enough that a man walked in seeking a day's labour to paint a rock climbing track in Lahore. With little understanding of what he was setting himself up for, he took the job for the money it and in no time found himself dangling from what appeared like an artificial rock wall.

"It wasn't a lot of work and so I was done quicker than I initially thought," the then labourer recalled. "I was quite intrigued by the rocky wall and since there was still some time to dusk and no one around, so I decided to summit the track out of pure curiosity," he added.

However, Ali had no idea that his little whimsical acts were being watched. "Apparently, there was a German woman who saw me summiting the track without any harness or safety. She though I quite skillful for someone with absolutely no experience in the sport so she had two options—She could have either reported me to the management and had me fired for violating my paint-work agreement or hire and train me to best utilise my skills. She chose the latter and little incident changed my life for the better."

Staring that day, Ali was hired and started pursuing his newfound passion for rock climbing without ever looking back. Today, the 24-year old is a certified trainer who has trained and inspired all 22 professional rock climbers at the moment in Pakistan, including the five in his own province of Khyber-Pakhtunkhwa.

The athlete who holds the honour of participating in several national and international competitions like in China, Russia and Qatar, is also an expert in all three forms of the sport. "Most people are either speed climbers, technical leading climbers or top rope climbers but luckily I am well acquainted in all three which gives me an edge over other athletes in the field," said Ali.

Further, the young athlete also informed The Express Tribune that with several titles under his belt, he's currently preparing to represent Pakistan in the IFSC Climbing World Cup in Japan. "I had no idea that man from a background as humble as mine could chance upon such a glorious fate. It still feels quite surreal but I am proud to say that I have so far won medal in Russia, a title in China and stood first place in the Qatar competition. Other than that, I have also won a national award and over 24 medals and dream of holding the Pakistani flag in the 2020 rock climbing world cup in Japan," told Ali.

Ali, who also represents the Sui Northern Gas Pipelines Ltd (SNGPL) Mountaineering and Climbing team, says that the department has helped him in his pursuits of becoming an internationally acclaimed rock climber. "They provided me with shoes, kits and other accessories which I myself had no access to. If it wasn't for the department's support, I would have still been a daily wager like my brothers."

Published in The Express Tribune, April 22nd, 2020.
COMMENTS
Comments are moderated and generally will be posted if they are on-topic and not abusive.
For more information, please see our Comments FAQ