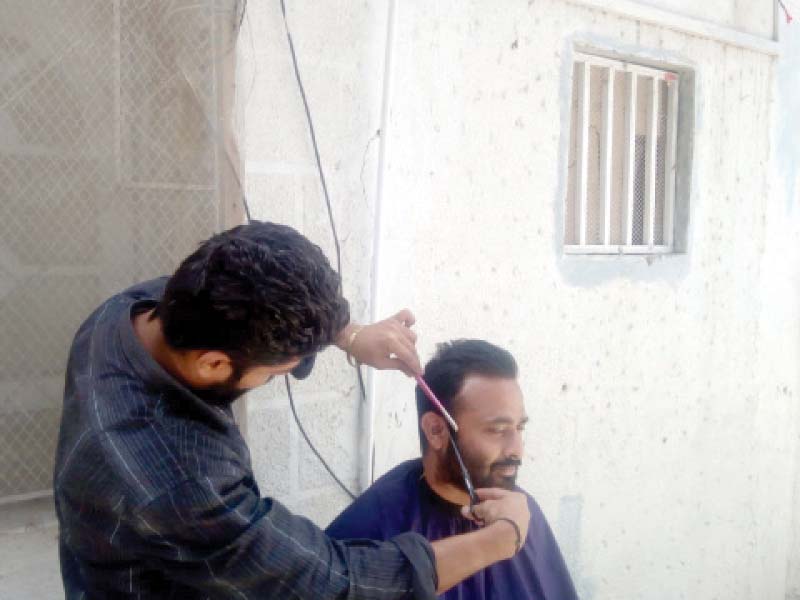 ---
Chopping the lockdown locks at home
Owing to temporary closure of salons across Karachi, many barbers have started providing home services
---
KARACHI: The ongoing coronavirus lockdown has not only affected people's public life but many people are also experiencing personal problems because of the situation, such as not being able to get a haircut.

It may sound trivial, but with the closure of hairdressing salons and barber shops across Karachi, many people are desperately waiting to trim their beards and locks, with some even reaching for the scissors themselves. To fix people's haircut woes, many barbers in the metropolis are now offering door-to-door services. Those interested in availing the services have to make an appointment on the phone.

Desperate times, desperate measures

Most barbers who work in Karachi are from other cities. With the imposition of the lockdown, together with the suspension of business activities, more than 70 per cent of them have returned to their native towns and villages.

"More than 95 per cent of hairdressing salons and barber's shops are closed these days, therefore, the ones left in the city - like me - have decided to offer home-based services," Sanaullah, a local barber from Karachi, told The Express Tribune.

He added that his profession is not monetarily rewarding as it is and the lockdown has made the situation even worse.

"[Even though there is some risk involved due to Covid-19], I decided to go to people's houses for haircuts and shaves to make ends meet. I had to find a means to support myself while the shops are closed," he said.

He opined that for most people, getting a haircut and shave is not only about aesthetics, but with the temperature gradually rising in Karachi, many men like to keep their hair short and beards trimmed. Many also prefer to sport a clean-shaven look.

"Most people seem to be quite desperate for a haircut. They can book their appointments with me via phone from 8 AM to 10 PM. Depending on the workload, I can provide same-day services too," he said.

Parents are also worried about their kids' hair because schools have been closed since late February and they have not had a chance to get a haircut.

"Hair growth in children is usually faster than adults. Many times, when I go to give a haircut to kids, it is surprising to see how long their hair has grown," Sanaullah added with a chuckle.

Limited services

Even though Sanaullah and many other barbers like him have agreed to provide haircuts and shaving services at people's home, they have decided to refrain from rendering other personal grooming services, such as facials and massages.

"We carry combs, scissors, single-use razors, shaving creams, disinfectants, sanitiser and cutting cloaks with us," he said, adding he and other barbers have discontinued the use of shaving brushes as a precautionary measure. "Other services, like facials and massages, require more equipment and products and are time-consuming. Therefore, we are unable to provide those services at home."

Increasing demand, higher rates

As more and more people are reaching out to barbers for a haircut, prices have been increased.

"We are not only providing haircuts and beard trims in the comfort of people's homes but as we also have to commute to different areas we have increased the rates," Sanaullah said.

On average, a person's haircut or trim takes 20 to 40 minutes, whereas shaving a beard may take up to 30 minutes, depending on hair growth. "Within a 12-hour timeframe, I can provide up to 20 haircuts per day," Sanaullah revealed.

"These days, I charge Rs150 to Rs200 for kids' haircut, while for adults, the rates range between Rs200 to Rs250," he said. "Moreover, Rs120 to Rs150 are charged for a shave or beard trimming, together with an additional charge of Rs50 for using new razors."

Safety first

As for taking care of personal hygiene and precautionary measures to prevent the spread of Covid-19, Sanaullah added that everyone is being careful these days.

"I make sure to sanitise my hands before touching someone's hair or face, and I instruct my customers to do the same. Moreover, both I and the customers wear protective masks."

He also added that he tries to avoid standing unnecessarily close to the clients.

0"Customers are usually quite aware of the situation, so they also make sure that precautions are taken. We all have to act responsibly," he said.

A blessing in disguise

Knowing that barbers are financially struggling because of the lockdown, many people have also started tipping them as a gesture of appreciation.

"Usually, we don't get tips but now that we go to people's houses, they feel relieved and happy, so they give us some extra cash to show gratitude," Sanaullah said.

He added that some people even offer him tea, or ask him to stay back for lunch or dinner, depending on the time.

"Times are hard but these small gestures make our jobs a little bit less difficult," he concluded.

Published in The Express Tribune, April 22nd, 2020.