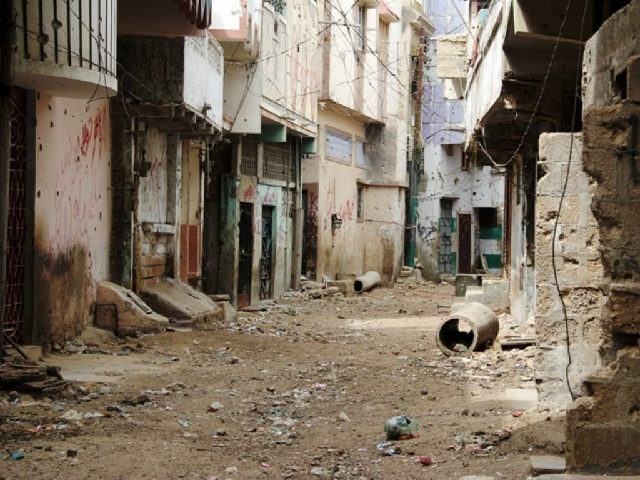 ---
Lyari's dissidents pose challenge for health officials
They continue to roam streets despite being told multiple times to stay inside, says DHO
---
KARACHI: With over 500 confirmed coronavirus cases reported from Karachi's South district, health professionals are finding it challenging to ensure that residents stay inside their houses, especially those in old city areas.

"Lyari is a real challenge in the district," said district health officer Dr Ahmed Ali Shaikh, speaking on the matter. "We have been requesting them [Lyari's residents] to follow lockdown guidelines and stay inside their houses," he said, "but they simply don't like listening to us."

He complained that the attitude of the residents of Lyari was a "bit harsh" towards health workers. "They resist and don't cooperate with our teams," he said.

Despite the number of positive cases rising steeply in Lyari, its residents keep roaming in the streets and in markets without any fear of the virus, or even that of police and Rangers personnel.

This was evident when Ishaq Hingoro, a resident of Lyari, laughed, pointing out to a road full with pedestrians, and said, "No one is afraid of the virus."

"We are a different kind of people," he laughed again, saying the residents even tried to visit a home where a patient was kept in isolation. "You cannot easily convince the people of Lyari," he explained, adding that everyone in the neighbourhood discussed the virus but few understood the danger associated with it.

Shakoor Baloch, another resident, said that the only way to keep the people of Lyari isolated was to seal the streets. He said that there was a little fear among some families and the majority still enjoyed staying out.

According to a health department official, people from Kutchi, Niazi and Pathan communities mostly remain outside their homes, especially those located on narrow streets.

He told The Express Tribune that 506 persons from South district had tested positive so far, surpassing the virus tally of all other districts of Sindh. Among them, 92 belong to Lyari alone.

Of them, four persons have died, 16 have been shifted to the isolation facility at the Expo Centre, 10 have been isolated at Lyari General Hospital, few were transported to Dr Ruth Pfau Civil Hospital and remaining were advised isolation themselves at home.

However, due to lack of space making it near impossible for many to isolate themselves at homes, the health department would be transporting almost all Covid-19 patients to the Expo Centre today (Wednesday), as decided on Tuesday.

Confirming this, Dr Shaikh said, "Yes, we have to shift them."

Earlier, on Friday night, at least 15 patients who were placed in home isolation were taken to the Expo Center with the help of South deputy commissioner Irshad Ahmed Sodhar and Kalri and Kalakot police.

With citizens refusing to abide by lockdown orders, it is feared that many law enforcement personnel deployed in the area would too contract the virus. Hence, on Tuesday, health department teams tested 60 police officials at Baghdadai Police Station, on the request of top police officials.

Interestingly, not only Lyari, residentsof Clifton and Defence Housing Authority, too, avoid observing social distancing.

Explaining the issues the health department faced in these posh areas, Dr Shaikh said that there were some apartments where residents had even made arrangements for congregational prayers on Friday. "We have identified the apartment and residents have clearly been instructed to follow the law or stern action would be taken against them," he added.

Owing to the increase in the number of positive cases, 36 teams have been formed in city's South district to tackle the pandemic.

Published in The Express Tribune, April 22nd, 2020.