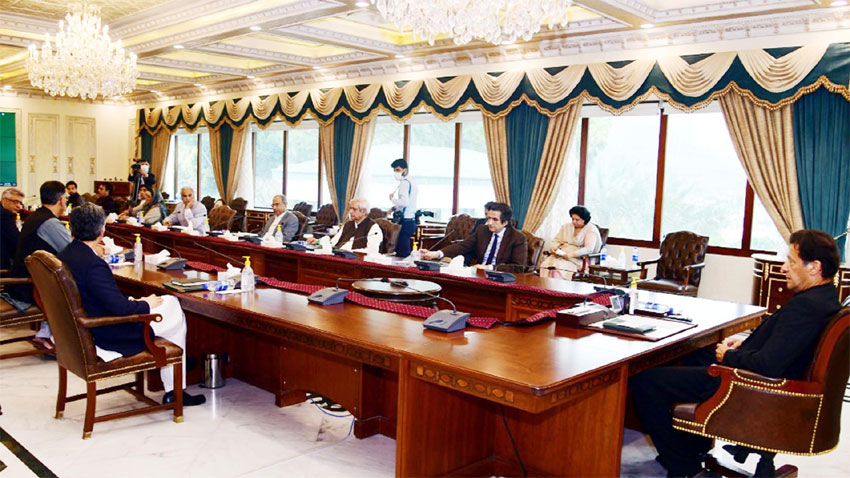 ---
PM Imran stresses upon effective strategy, public cooperation for social distancing
PM says the government is keeping requirements of doctors and paramedics on top priority
---
Prime Minister Imran Khan on Tuesday stressed upon an effective strategy and public cooperation for maintaining social distancing to limit the spread of the Covid-19 pandemic.

"Instead of using force, public cooperation has been sought in sovereign countries through the involvement of the people over issues of national importance." PM Imran said while chairing a cabinet-level meeting in Islamabad.

While reviewing the coronavirus situation, the premier also said that the federal government is fully aware of problems faced by the trader community and is making efforts to resolve their issues with the cooperation of the provincial governments.

Tablighi Jamaat members test positive in Sindh after obtaining clearance from other provinces

Referring to doctors and paramedics, the premier said that the government is keeping their requirements on top priority as they are on the frontline in the fight against the deadly contagion.

In regards to guidelines earlier agreed with the religious scholars, PM Imran said that "the responsibility of ensuring [their] implementation lay with all stakeholders".

Earlier, the premier said that the country may face increased coronavirus cases from the middle of May and the country's healthcare system can come under significant pressure.

"Coronavirus cases are expected to increase from May 15 to May 20," PM Imran had warned.

The premier had also said Pakistan has less Covid-19 cases than compared to the rest of the world as the federal government took the timely decision of imposing a lockdown.