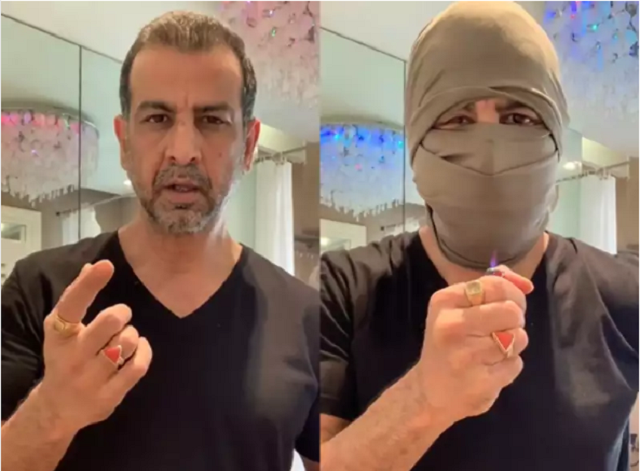 ---
Indian actor Ronit Roy's mask made of T-shirt has Twitter in fits
'That's how Mr Bajaj made all his money. Bank heists,' a user commented
---
Popular Indian actor Ronit Bose Roy has come up with a rather interesting way to make masks at home amid the coronavirus lockdown. Taking to social media, Ronit posted a video that shows him making a mask out of an old T-shirt, without the need for stitching.

"No mask, tension nahi lene ka! simple hai," he captioned the video.

https://www.instagram.com/p/B_MK-NJhkVD/

The Kyunki Saas Bhi Kabhi Bahu Thi famed artiste even tested the effectiveness of the mask by blowing the fire from a lighter through the mask.

After his video garnered attention on social media, many reacted with hilarious responses.


Sir Ma dahi lene jana ha bank lootne ni. https://t.co/LirGLO7uBC

— Ali Asghar (@AllureAliAsghar) April 21, 2020


https://twitter.com/Carrie_Lomax/status/1252409684281053185


ninja turtle https://t.co/pIjDbkWAdj

— 🐼 (@triangulum_) April 21, 2020


https://twitter.com/doctorwhothefuc/status/1252203060186755074

https://twitter.com/GardeziAsim/status/1252360720538202113


this man is planning a robbery I'm telling you all abhe say https://t.co/7EMC6xyI47

— hoziers hoe🌈 (@la9at) April 21, 2020
This is how Mr. Bajaj made his money. Bank heists. https://t.co/6Q4yHq6b4r

— Nadia (@novocainerush) April 20, 2020


Earlier, Bollywood actor Vidya Balan was seen making a mask at home out of her blouse using two hair bands.

https://www.instagram.com/tv/B_HnQ9wnYbY/?utm_source=ig_embed

"Masks play an important part in preventing corona. However, the problem is that there is a shortage of masks not only in our country but across the world. But there is an easy solution to this. Just as our Prime Minister has said that we can make masks at home. Take any piece of cloth, it can be a dupatta, scarf, old saree anything. And you will need two bands. Rubber bands will also do," Vidya had said.

Have something to add to the story? Share it in the comments below.