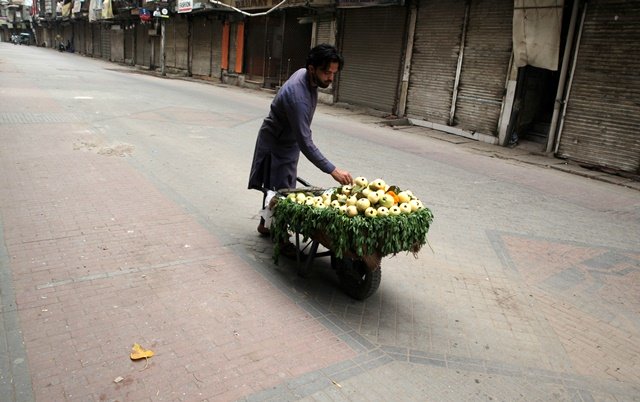 ---
Lockdown deprives workers of livelihood
Maids, cooks and street workers face double whammy: loss of work and fear of Covid-19
---
LAHORE: The partial lockdown imposed in the wake of the coronavirus pandemic, and the increasing practice of self-quarantine has adversely affected the socio-economic conditions of domestic workers.

The domestic workers constitute a large portion of the workforce that contributes to the country's informal economy.

A majority of such workers belong to rural areas. Since the global pandemic began and the federal and provincial governments imposed lockdown across the country, domestic workers had been forced to leave for their native villages.

Those who resided in the city had been left confined in their homes as the public transport system closed down.

The woman who discovered the first coronavirus

The imposition of ban on their entry by a large number of private and cooperative housing societies only added more trouble to their woes as domestic workers have no other means of earning.

A few weeks ago, a domestic helper working at the residence of famous designer Maria B tested positive for the virus and the family reportedly sent him back to his village rather than admitting him to a quarantine centre.

A worker's rights activist told The Express Tribune that people of higher-income backgrounds, who usually hosted these workers, had sacked many of their helpers instead of sensitising them to the situation.

The affected people include a couple from Sargodha. The husband worked as a cook while the woman worked as a maid.

China owes Germany $162 billion in 'coronavirus damages': report

After the pandemic began, their employers just asked them not to come for work until they were asked to return.

The sacked couple were left helpless and felt as if they were stranded in the city. Public transport was also not available. With the help of fellows from their village, the couple shared a hired vehicle to transport them to their village.

The Executive Director of HomeNet Pakistan (HNP), an organisation working for the rights of domestic workers, Umm-e-Leila said that such workers formed a large portion of the labour force of Pakistan's informal economy. "These include home-based workers, domestic help, street vendors and contract workers."

Published in The Express Tribune, April 21st, 2020.