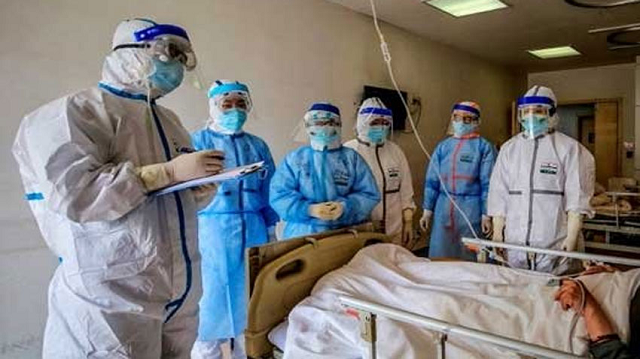 ---
Workers on frontline of Covid-19 battle hailed
Governor says staying home is best way to stem coronavirus
---
LAHORE: Punjab Governor Chaudhry Sarwar has said coronavirus would affect everyone regardless of their religion, caste and creed and the people fighting the virus on the frontline were the real heroes of the nation.

He expressed these views while talking to PTI MNA Shanila Roth and Akhuwat organisation's Chairman Dr Amjad Saqib in a meeting at the Governor House on Monday.

The governor also awarded an appreciation certificate to MNA Roth for effectively fighting against coronavirus pandemic and taking measures to supply ration to the poor families.

He said people could save themselves from this virus by staying at homes.

"The whole world observed the consequences in Singapore where people came out of homes assuming that they had got rid of this pandemic.

Those fighting corona on the frontline and providing facilities including distribution of ration among the deserving families are heroes of the nation," Sarwar said.

China owes Germany $162 billion in 'coronavirus damages': report

"The Indian plan to target the Muslims under the garb of coronavirus is shameful and the United Nations must take notice of it."

The governor further said all the people would have to fight coronavirus until the World Health Organisation (WHO) develop an anti-coronavirus vaccine.

"To stay safe from this pandemic, it is important that people remain in their homes and avoid non-scientific cures being circulated on social media and websites because it will harm only instead of healing," he remarked.

The governor said Modi was the enemy of humanity and Indian author Arundhati Roy exposed his nefarious plan of provoking anguish between the Hindus and the Muslims under the garb of coronavirus.

"The plan, under the pretext of coronavirus to carry out the genocide of the Muslims, is a plan of massacring humanity. Time has now come, all international organisations including United Nations must not keep mum over inhuman steps of India rather take strict notice of it and stop Modi from spreading hatred against the minorities," he remarked.

Published in The Express Tribune, April 21st, 2020.