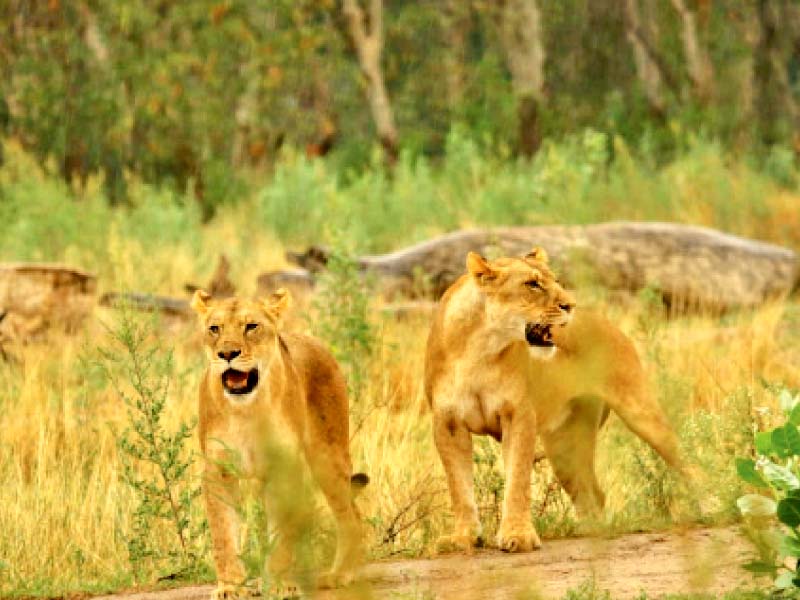 ---
Safari Park's 14 lions sold due to lack of food
Auction fetches Rs2.1 million amid increasing number of animals in zoo
---
LAHORE: The management of Safari Park has sold 14 African lions because of difficulty to arrange food for the animals and birds as the government keeps extending the lockdown because of the novel coronavirus pandemic.

The park's management stated that the number of lions in Safari Park was very high due to which they were sold.

The African lions have been sold for Rs2.1 million. Lahore's Safari Park was already facing problems due to lack of income, which has increased because the citizens are not allowed to visit it due to lockdown.

It has also been difficult for the administration to feed the animals and birds due to lack of funds. It is extremely expensive to feed tigers, lions and jaguars in the zoo.

There are 37 African breed lions and lionesses and five tigers, including a white tiger, two jaguars and two pumas in the Safari Park.

The milk and meat for these animals cost millions of rupees.

Officials said a lion is given eight to nine kilogrammes of meat and few litres of milk every day. The daily cost of the lions' food is about Rs30,000, which amounts to about Rs900,000 per month and Rs10.8 million annually.

China owes Germany $162 billion in 'coronavirus damages': report

Sources revealed that seven lions and seven lionesses of Safari Park were sold through auction. They said all legal requirements had been fulfilled in the auction. The sources said that each lion was sold for Rs150,000. Thus the 14 lions were sold for Rs2.1 million.

Out of the 14 lions sold, 12 had minor issues related to breeding.

Punjab Wildlife Department officials said the number of lions had increased substantially over the past few years in Lahore Safari Park and their mortality rate had dropped due to their better care. That is why a large number of lions have been sold. The initiative aims to involve private breeders in the sector so that wildlife can be promoted in the province.

All the lions have been sold to breeders who have registered with the wildlife department and have facilities for keeping lions.

Punjab Wildlife Director Mohammad Naeem Bhatti said 12 of the lions sold were suffering from partial disability. "Someone had problems with paws and others with bones," he said. The administration was forced to sell them due to disabilities.

Another reason for the auction was that there was no place for breeding the animals in the zoo as tigers and lions have been brought from the United Arab Emirates.

"Moreover, we have run out of resources, 90 per cent of the expenditures are made on the food of lions," he said.

Published in The Express Tribune, April 21st, 2020.