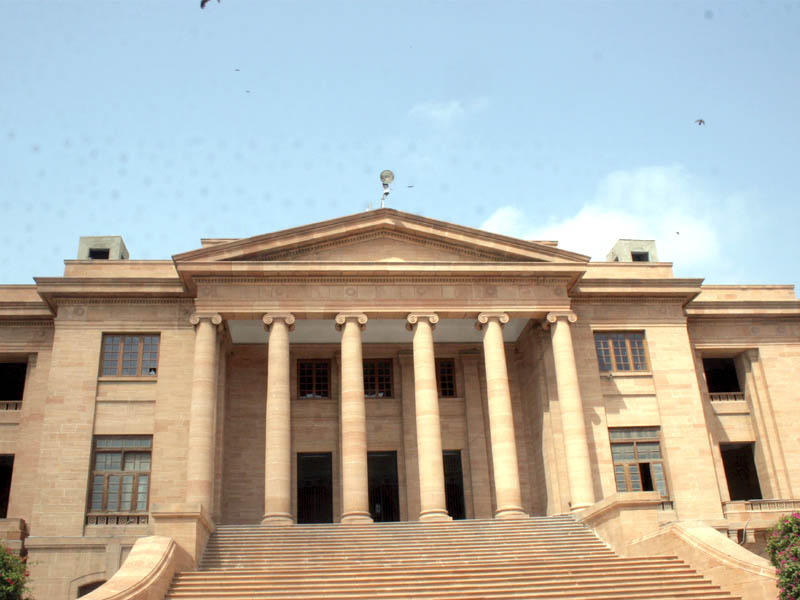 ---
KARACHI: The Sindh High Court (SHC) rejected on Monday an appeal against the death sentence awarded to a former judge in a murder case.

A two-member bench, comprising Justice Muhammad Ali Mazhar and Justice Agha Faisal, rejected the appeal and ordered to maintain the verdict announced by the trial court against former Mithi sessions court judge Sikandar Ali Lashari.

An anti-terrorism court had sentenced Lashari and co-accused Irfan Bangali with capital punishment after finding them guilty of murder.

According to the police, Lashari had murdered Aqib Shahani, the son of former Jacobabad sessions court judge Khalid Shahani, on February 19, 2014.

Licenses for liquor stores

Separately, a bench comprising Justice Mazhar and Justice Yousuf Ali Sayeed, sought a detailed report from the Sindh government, Sindh excise and taxation department and other authorities over a plea challenging the issuance of licenses to liquor stores.

When Justice Mazhar inquired about the conditions on which the liquor shops are issued licenses, Sindh additional advocate-general Jawad Dero stated that licenses are issued to liquor stores following Article 17 of the Hudood Ordinance in Sindh, while stores located near educational institutions, mosques and madrassas are not provided licenses.

Meanwhile, the excise department director informed the court that all factors were taken into consideration before issuing the licenses, adding that liquor stores are allowed to open only in areas where non-Muslims are residing.

He claimed that a liquor store in Defence Housing Authority (DHA), against which the plea has been filed, was issued its license in 1985.

Justice Mazhar observed that there was a huge difference between DHA in 1985 and DHA as it is now in 2020.

Dero pointed out that the Supreme Court of Pakistan had suspended the SHC's earlier verdict for a permanent ban on liquor stores.

The court sought a detailed report from the provincial government and other authorities as well as copies of the verdicts by the apex court and the SHC on April 29.

Published in The Express Tribune, April 21st, 2020.