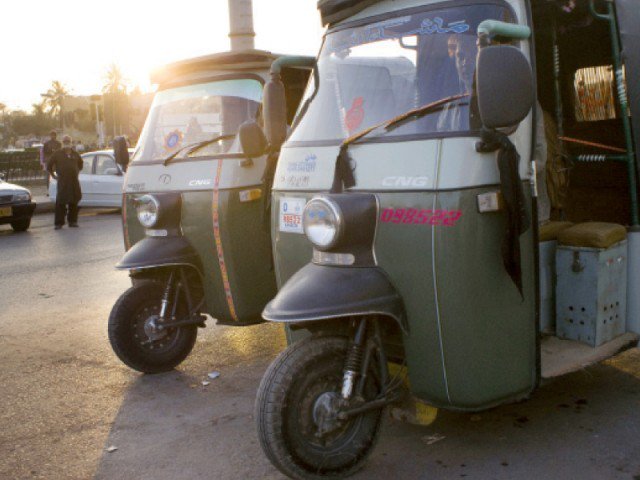 ---
Risking lives in search of employment
With no intercity transport, many jobless daily-wage workers are leaving Karachi for other cities via rickshaws
---
KARACHI: With the imposition of a lockdown in Sindh to contain the spread of coronavirus, different economic activities in Karachi have had to be suspended, adversely affecting the poor working class. As a result, many daily-wage earners have decided to bid farewell to the metropolis and move to other cities in search of employment.

Since intercity transport has been suspended because of the pandemic, these workers have resorted to using auto-rickshaws to reach their native towns - a vehicle which is not suitable for long-distance travel and can be risky to drive on the highway.

"Throughout my 11-year career, I have never seen so many auto-rickshaws on the highway," said Javed, an intercity ambulance driver who works for the Edhi Foundation. "Recently, however, I have seen several auto-rickshaws on the Karachi-Hyderabad M-9 and other highways."

Observers told The Express Tribune that rickshaws seen on the superhighway are often loaded with suitcases, bags and other heavy items because people are moving out of the city. Owing to the speed, the rickshaws can easily lose balance and meet deadly accidents.

Intercity transport services were suspended on March 19 after the Sindh government imposed a lockdown in the province to contain the spread of Covid-19. Initially, the ban was imposed for 15 days but it was later extended. Only certain trains were allowed to operate per schedule but they too were suspended on March 25.

"On March 25, which was the last day of train operations, many people resorted to train surfing due to the non-availability of space inside the trains," said Nasir Mansoor, the general secretary of the National Trade Unions Federation. "Around two million migrants had to lose their daily-wage jobs due to the lockdown in Karachi. These people were mostly working in textile and garments industries, marriage halls, and small restaurants," he added.

According to Javed, it's not just the workers who have been leaving the city; some of them even took their families with them in the rickshaws, including young children. "They often tie their luggage on the hood of the rickshaws, a practice which is quite dangerous," he said.

Javed added that while some of the travellers are native to Sindh, others had migrated to Karachi in search of employment from different areas of Punjab.

"I have even seen some families going all the way to Bahawalpur, Punjab, in a rickshaw. Last week, I saw a 12-year-old boy falling off the rickshaw. Fortunately, he escaped unscathed and there were no other vehicles on the road at that time," Javed recounted.

"People are compelled to take such risks as they have no option other than hiring an auto-rickshaw to reach their destinations," explained Mansoor, adding that people moved because living in a city like Karachi without having any source of earning is impossible for the poor.

"Using cars or buses are the safest options to drive on the highway, especially if you have family and luggage with you. But these poor workers have to take the risk for their survival," he said. "There are thousands of people who cannot even afford rickshaws. These people are already very poor, and the coronavirus crisis has only worsened their circumstances."

Published in The Express Tribune, April 21st, 2020.