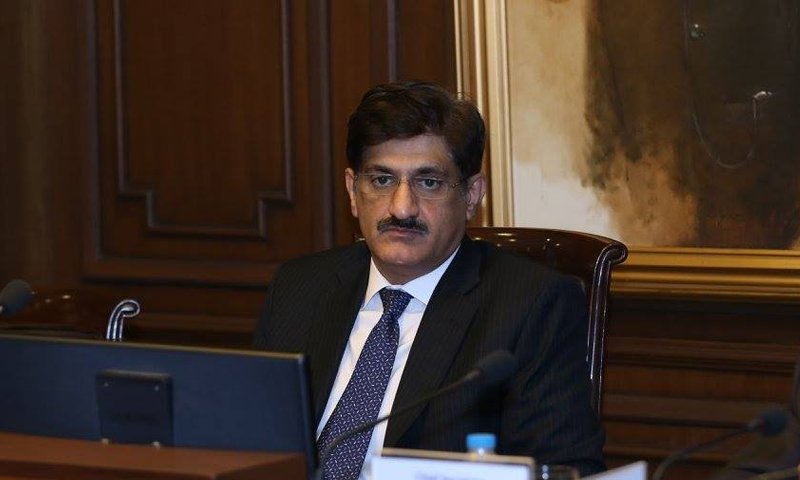 ---
'Local transmission wreaking havoc in Karachi'
Sindh CM orders officials to begin extensive testing in hotspots
---
KARACHI: As 156 new coronavirus cases were reported in Karachi alone on Monday, Sindh Chief Minister Syed Murad Ali Shah expressed alarm about the situation in the metropolis and directed officials to launch extensive testing for the virus in Covid-19 hotspots.

In a video message, he revealed that more than two-thirds of the 227 new cases belonged to the provincial capital. "As many as 71 cases emerged in other divisions of the province, but local transmission has started wreaking havoc in the city," he stated.

Underlining the gravity of the current situation, he shared that 68 locally transmitted cases were reported in South district, 65 in East district, 31 in Central district, 23 in Korangi district, five in West district and four in Malir district on the day.

Religious scholars extend full support to govt's Covid-19 measures in Ramazan

"This is not an easy situation. We will therefore have to take strict and proactive measures to contain the virus and stop its further spread," he asserted, adding that five more people had lost their lives to the contagious disease despite the efforts of doctors, taking the toll to 61 deaths in 33 days.

Later, the CM held a meeting with all commissioners and deputy commissioners via video link, where he informed them that the number of cases in the katchi abadis of Karachi and other district were increasing day by day.

"Local transmission is dangerous and must be stopped at once. Otherwise, it will be uncontrollable," he maintained.

He directed the deputy commissioners to identify the hotspots in their jurisdictions and begin extensive testing there. "We don't have a shortage of testing kits. It is time to utilise them."

Congregational prayers

The CM stated that though congregational prayers would be permitted in mosques, in the wake of the consensus between the federal government and the ulema over the weekend, compliance with health advisories and standard operating procedures (SOPs) was mandatory for all mosques.

"The ulema and religious scholars have always cooperated with the government, and I am certain their support will continue," he said. "The current scenario of growing Covid-19 cases is clear for everyone to see. The government, without the support of the people, cannot manage it single-handedly."

Reopening businesses

While some export-based industrial units and other establishments have resumed operations, Shah said he had asked the relevant deputy commissioners to keep checking them to ensure their compliance with the SOPs that had already been shared with them.

Larkana hotspots sealed after 21 test positive for Covid-19

"Human life is precious; I will not allow anybody to put it at risk," he vowed, again requesting people to follow the SOPs, ensure social distancing and keep themselves as well as others safe from the virus.

Testing

The CM claimed that the Sindh government had so far conducted 26,058 tests for Covid-19, with 1,600 on Monday. A total of 2,764 cases had been reported in the province as of Monday, and roughly 2.2 per cent of those diagnosed with the coronavirus have passed away.

Revealing details about the cases reported in areas other than Karachi on the day, he said the 33 patients were diagnosed in Khairpur, eight each in Tando Mohammad Khan and Jacobabad, seven in Hyderabad, six in Shaheed Benazirabad, four in Kashmore, two each in Larkana and Mirpurkhas, and one in Badin.

Around 2.068 patients are still under treatment, with 1,223 in home isolation, 547 accommodated at isolation centres and 298 admitted to various hospitals. Also, he added, out of 4,955 members of the Tableeghi Jamaat who were tested, 658 had coronavirus, while the results are pending for 161 individuals.

Furthermore, he stated, around 75 per cent of the patients in the province to date were male, while 699 of them were female.

Shah also revealed that 1,693 coronavirus patients in Sindh were under the age of 50, stating that the age frequency showed that everyone, regardless of their age, had to comply with health advisories.